Find out what everyday objects you can use to make crafting with your Cricut easier. These Cricut hacks and tips will certainly be helpful for beginners as well as advanced Cricut users.
Hello, Cricut buddy! Welcome to Cut N Make Crafts. I'm writing this post from my AirBnB room that I rented for our trip to Sydney.
My husband and I arrived here yesterday and it has been crazy since then because our car broke down after reaching here. The worst part is all the mechanics are closed due to the Easter holidays so we had to extend our stay here instead of heading towards Brisbane as planned. 🙁
We're trying to make the most of our time in Sydney though. Today we went to check out the city and oh boy! I LOVED it. It reminded me of a LOT of Kuala Lumpur (my fav city on the planet) and it felt SO good! I'm so happy, I can just come here whenever I miss KL.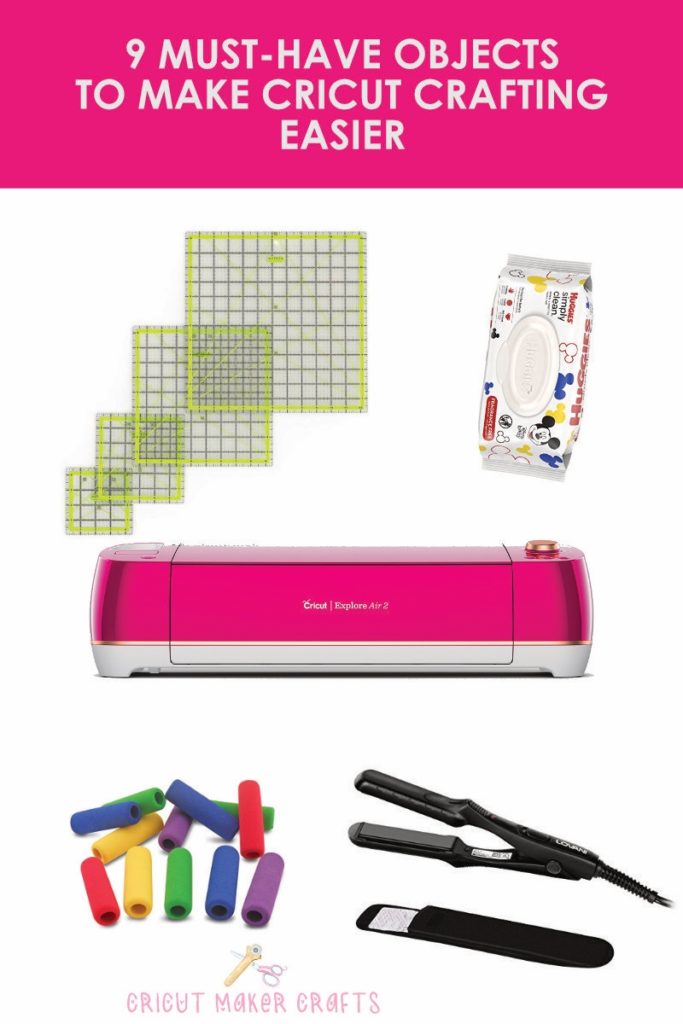 Tomorrow we'll be going for skydiving and I'm stoked because this has been on my bucket list for the past 10 years. I'm SO GLAD I'll finally be crossing it off my list. 😀
How did you spend your Easter holiday? Let me know in the comments below.
Alright, now let's get back to our post where I'm sharing 9 everyday objects you need to make crafting with your Cricut easier.
9 Must-Have Everyday Objects for Cricut Owners
AFFILIATE DISCLOSURE: Cut N Make Crafts is a participant in the Amazon Services LLC Associates Program, an affiliate advertising program designed to provide a means for sites to earn advertising fees by advertising and linking to Amazon.com.
If you do any kind of paper crafting with your Cricut, Glue Dots are a MUST to get beautiful results. This is because Glue Dots don't curl up your papers once dried like it's common with liquid glue.
Click here to get your Glue Dots today.
Pencil grips are a MUST if you want to write with your Cricut and don't want to invest in the expensive Cricut pens.
All you gotta do is, add the grips around any pen you have and attach the pen to your Cricut's pen holder. Ta-da! Life made easier.
Click here to grab your Pencil Grips.
Baby wipes are perfect for effortlessly cleaning your Cricut mats if you're in a rush. All you gotta do is take some and wipe down your mats to make them sticky again. It won't obviously be as good as a new one but will do the job.
So, make sure you have a couple of Baby Wipes at hand by ordering one here today.
Sandpaper is a must to sharpen your weeder tool if it goes blunt. Click here to get one now.
Disappearing markers are a must-have if you do a lot of Cricut iron-on projects. You can use the disappearing markers to draw lines and squares on your fabric to work as guides so you can place your vinyl cutouts perfectly avoiding all the crookedness.
Click here to grab a disappearing marker so you can use it later.
Another method to make sure your iron-on projects turn out straight and perfectly centered is by using Quilter's squares. Just place one on the fabric, use your disappearing marker to mark the lines, add your vinyl and ta-da! You have a perfectly centered iron-on.
Click here to get your Quilter's Square today so you can get the perfect iron-on project every single time.
Having trouble getting your iron-on project to stick in tricky areas? No worries, just use a hair straightener to get the job done. A hair straightener with its small surface area and ergonomic design can easily stick the HTV to the desired spot.
This hair straightener would be perfect for working with small iron-on projects. Click here to check it out.
So what does Zig Glue actually do? Zig Glue is perfect to get your mats sticky again. First, remove all the unwanted objects from the mat. Next, spread Zig Glue on it and leave it overnight. The next day you'll find your mat sticky again.
Click here to get your Zig Glue today.
Oh, the things you can do with lint rollers! Have a super tricky weeding project? Try out lint roller to get as many pieces out as you can. Want to clean up your mat real quick? Just use a lint roller. Want to clean up your craft table real quick? Just use a lint roller.
Lint rollers are a life saver. Click here to get one today if you don't already.
The End!
With that, we've reached the end of the post where I shared with you some easy Cricut tips and hacks using some everyday objects.
If you found this post helpful, make sure you share it in your favorite Facebook group or pin it for later using the image below.
Cricut Tips for Beginners
For more tips for beginner and expert Cricut crafters, check out 30+ Cricut Tips for Beginners.
You can also sign up to download the tips in PDF format to keep by your side 24/7.
Cricut Crafts for Beginners
Don't forget to check out these quick and easy beginner Cricut projects.