In this post, I'm sharing a FREE Wedding Card SVG File + Tutorial. This FREE Wedding Card SVG file can be cut using any of the Cricut machines. A beginner friendly super quick Cricut project.
Hello, Cricut Buddies! Welcome to Cut N Make Crafts! Today I'll show you how to make your very own Wedding Card that you can whip up in less than five minutes once it has been cut. I promise! This project is great for beginners JUST starting out with Cricut. You will also get to learn some tips on cutting intricate cuts in this post.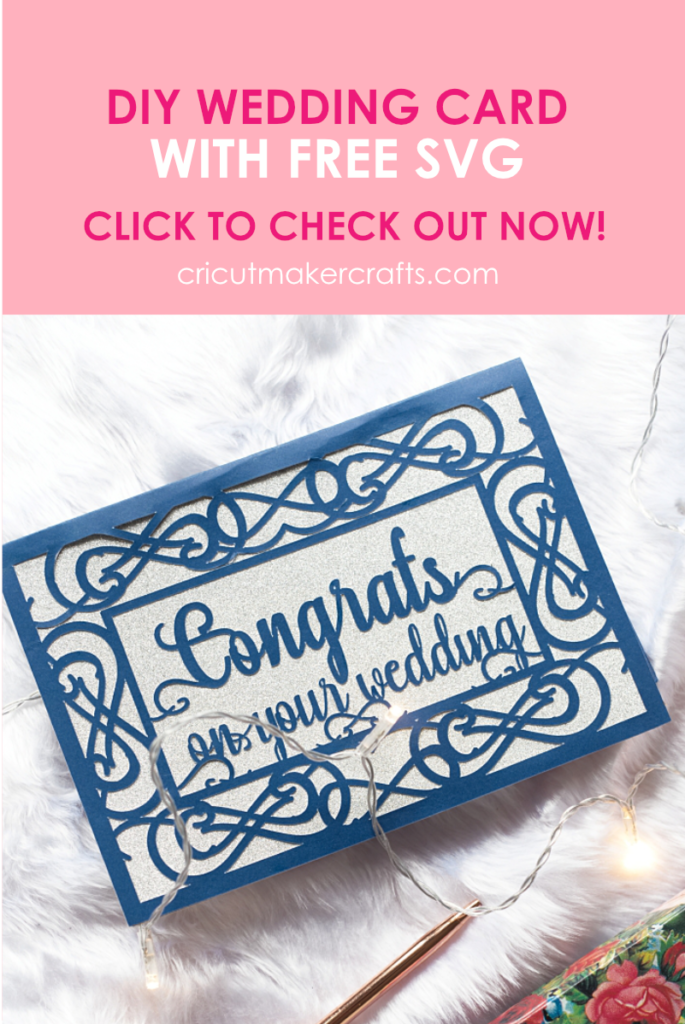 Custom made cards add such a beautiful touch to any occasion. They are a great way to show how much you love and care for that person. With this wedding themed card, you can make your friend/family member feel extra special because it's so unique. This wedding themed card will also look perfect when gifted with the wedding-themed lantern that I shared here: Wedd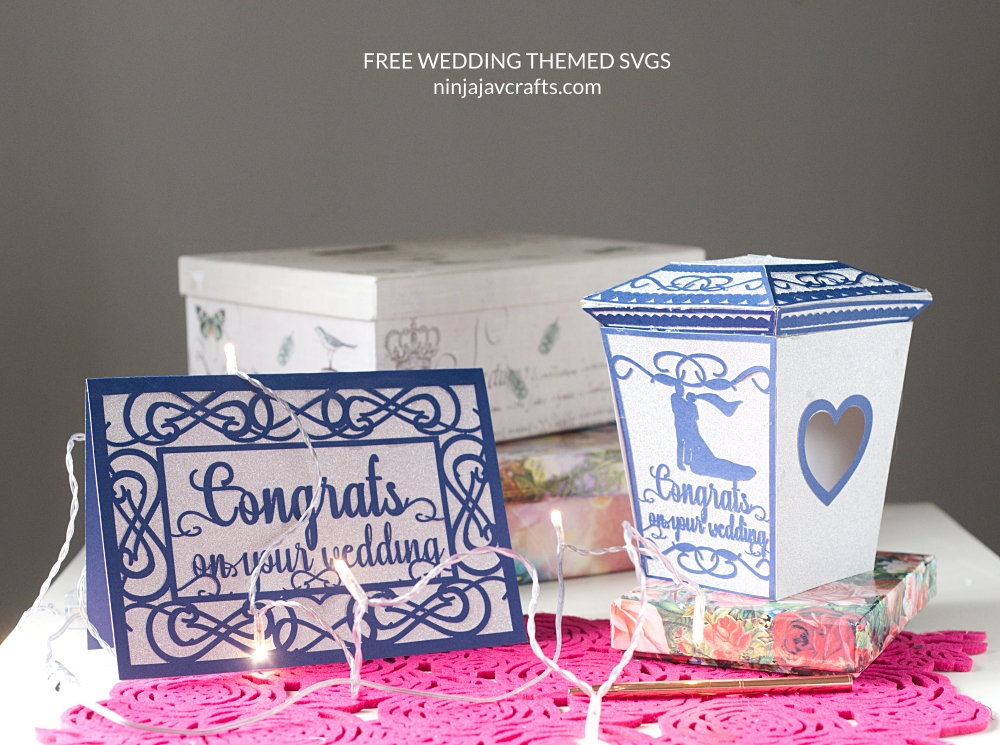 Alright, onto the tutorial now where I show you how to make a wedding-themed card for literally anyone among your friends and family.
FREE Wedding Card SVG File + Tutorial
Let's get started with the wedding card tutorial. But first, here's some important Affiliate info.
AFFILIATE DISCLOSURE: Cut N Make Crafts is a participant in the Amazon Services LLC Associates Program, an affiliate advertising program designed to provide a means for sites to earn advertising fees by advertising and linking to Amazon.com.
Techniques covered in wedding card tutorial
In this tutorial you will learn the following important techniques:
How to sharpen your blade using aluminum foil.
How to get the perfect intricate cuts with your Cricut.
Now, let's look at the list of supplies.
Supplies needed for Graduation Card
Light Grip Cutting Mat

Scoring wheel or a ruler
Free SVG file (you can grab this by signing up for the VIP list below).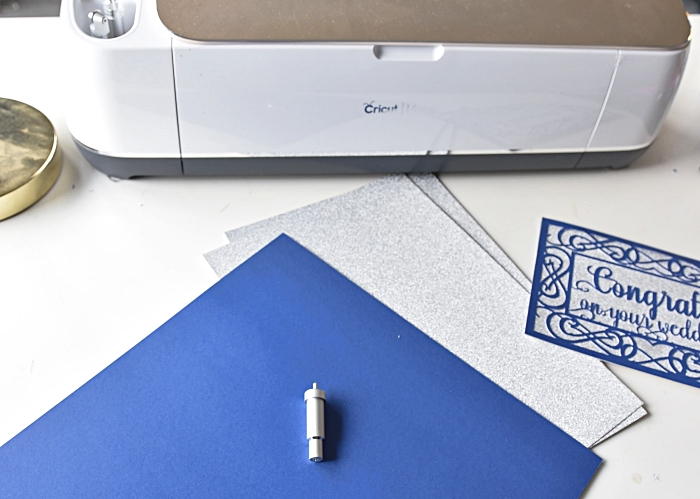 Important Tips for Making Wedding Card with FREE SVG File
Since this project involves some intricate cuts, you need to make sure you have a sticky mat, a brand new or a sharp blade and you need to select the intricate cardstock settings from the list of materials. If you're using Explore Air, set the dial to custom and select intricate cardstock from the materials list.
To find out how to clean your mat and make it sticky check out: Ultimate Guide to Cricut Mats for Beginners
Step-by-step Tutorial for Making Wedding Card
The steps for making this wedding themed card are similar to the ones I shared in the Graduation Card tutorial. You can watch the tutorial for the Graduation card below.
Here's a summary of the steps involved in making your own Graduation card.
Sign up for the VIP library below and download the free Graduation Card SVG file from the link given in the email.
Choose the colors for your Graduation card. You can use a color wheel available on Google to get some inspiration for what colors look good together. I used blue as my main color and silver glitter for the background.
Upload the wedding card SVG file on Design Space.
Next, click on "Make it".
For the main part of the Graduation card (the one with the intricate cuts), choose "intricate cardstock setting" from the list of materials.
Load your mat and get everything cut. It's going to take a little longer than usual to cut the intricate part so be patient. (IMPORTANT: If you're using glitter cardstock, make sure you place it RIGHT SIDE UP).
To assemble the card, start off by applying glue using the Glue Tape along the edges of the card. Also, add some glue around the text and the swirls.
Stick the insert to the back side. Fold the card along the edge of the insert and you're done!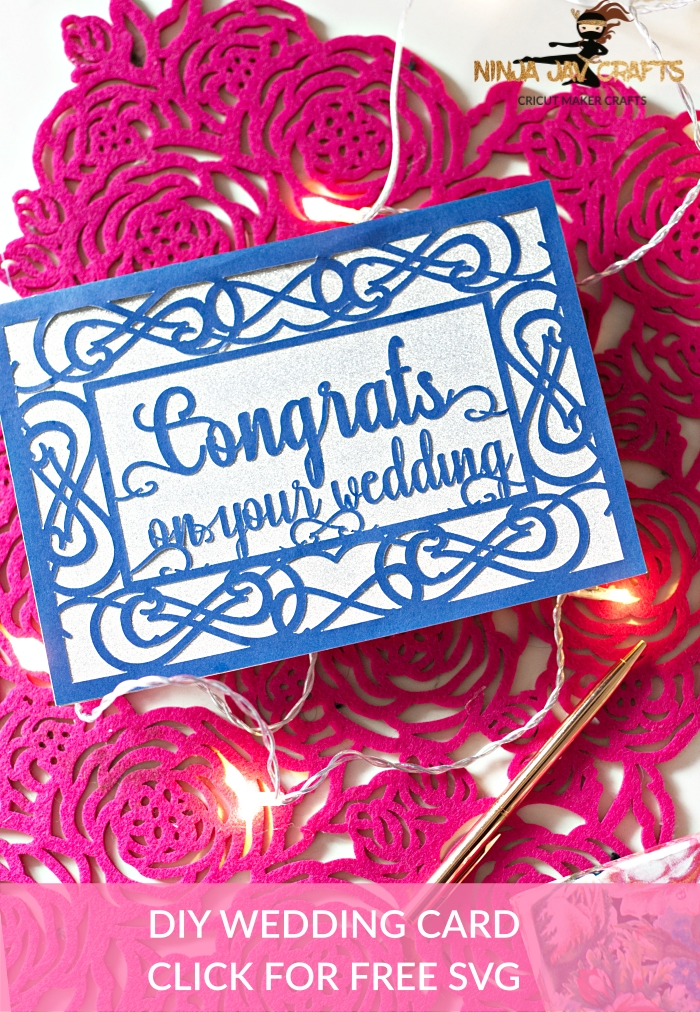 The End!
With that, we have reached the end of the tutorial where I showed you how to make a custom wedding-themed card.
If you found this tutorial helpful, make sure you pin it and share it in your fav Facebook group!
If you have any special requests or questions, just drop me a comment below. I'll get back to you ASAP. xx
-Jav the Ninja
More Beginner Cricut Projects
Don't forget to check out these beginner Cricut projects!