In this post, I'm sharing a tutorial for a super cute and fun food pun Cricut card perfect to give to the loved ones on an anniversary, or any other occasion when you want to express your love. This is a great Cricut paper craft that you can put together within minutes.
Hey, Cricut buddy! Welcome to Cut N Make Crafts! I have recently found a new addiction which is creating SVGs on my iPad. I LOVE using my Apple pencil to draw anything that comes to my mind, something I wasn't able to do on the paper. As a creative soul, I found my lack of drawing skills really upsetting but with the iPad, Apple pencil and my love, the Affinity Design software, everything's possible! 
If you'd like to learn to draw your own SVG files, stay tuned for my new mini course coming out soon!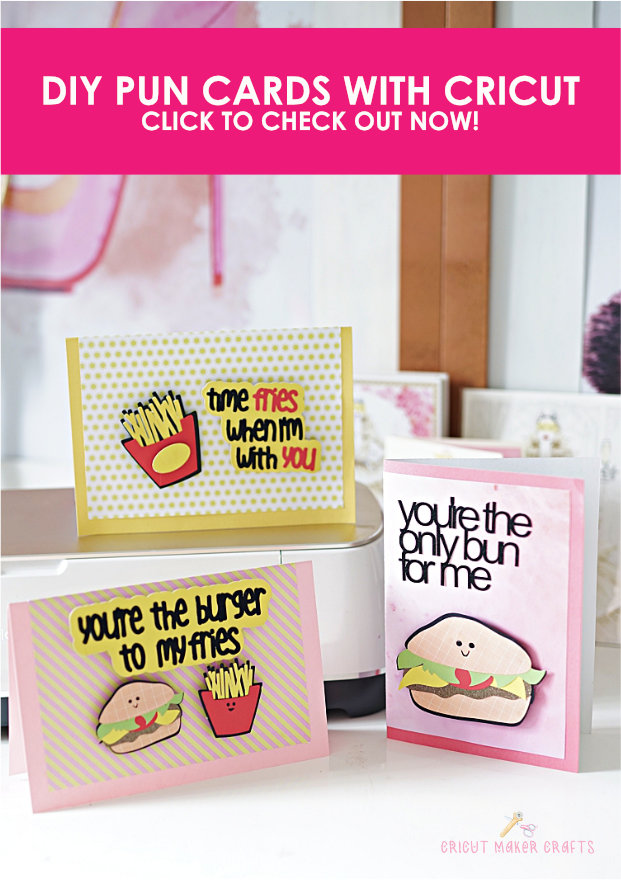 AFFILIATE DISCLOSURE: Cut N Make Crafts is a participant in the Amazon Services LLC Associates Program, an affiliate advertising program designed to provide a means for sites to earn advertising fees by advertising and linking to Amazon.com.
Supplies needed for the Cricut food pun cards
To make this super cute and fun Valentine card with your Cricut, you will need the following list of supplies.
How to make the food pun cards with Cricut
Tips for making this card
To make sure, your Cricut project turns out perfect, without any ripping of paper, make sure you follow these tips.
Use cardstock for intricate cut settings to cut out the small pieces and the text
Make sure your mat is sticky
Make sure your blade is sharp. Clean it by stabbing it in aluminum foil 50x at least.
Steps for making the food pun cards with Cricut
Purchase the Food Pun SVG Kit from the Cricut Maker Crafts shop.
Download and unzip the SVG file on your computer.
Upload the SVG file on Design Space.
Change the horizontal and vertical lines to score lines. In total, there should be 6 lines for 3 cards.
Ungroup everything and attach the lines to their respective rectangles.
Arrange everything on the mat.
For smaller elements, select "intricate cut settings". This gave me the best results without any wear and tear on the paper.
Once cut, assemble everything together to make your own food pun Valentine cards.
More Cricut projects and tips
With that, we've reached the end of the post where I shared with you how to make these adorable food pun Valentine cards with your Cricut.
Wait, don't forget to check out these awesome Cricut projects and tips as well!
Don't forget to pin this for later!