In this post, you'll find FREE Mother's Day SVG file for a special mother themed gift box. A beginner friendly Cricut project with "Best Mom Ever" cut file.
Hello, Cricut Buddies! Welcome to Cut N Make Crafts! Today I'll show you how to make your very own mom-themed gift box that you can stuff with cookies or small gift items like pearls and other pieces of jewelry.
I started working on this project back in Sydney when we had to take a break from our road trip because our car broke down and all the mechanics were closed for the Easter holidays. Thankfully, I had my laptop with me so I could work in my free time.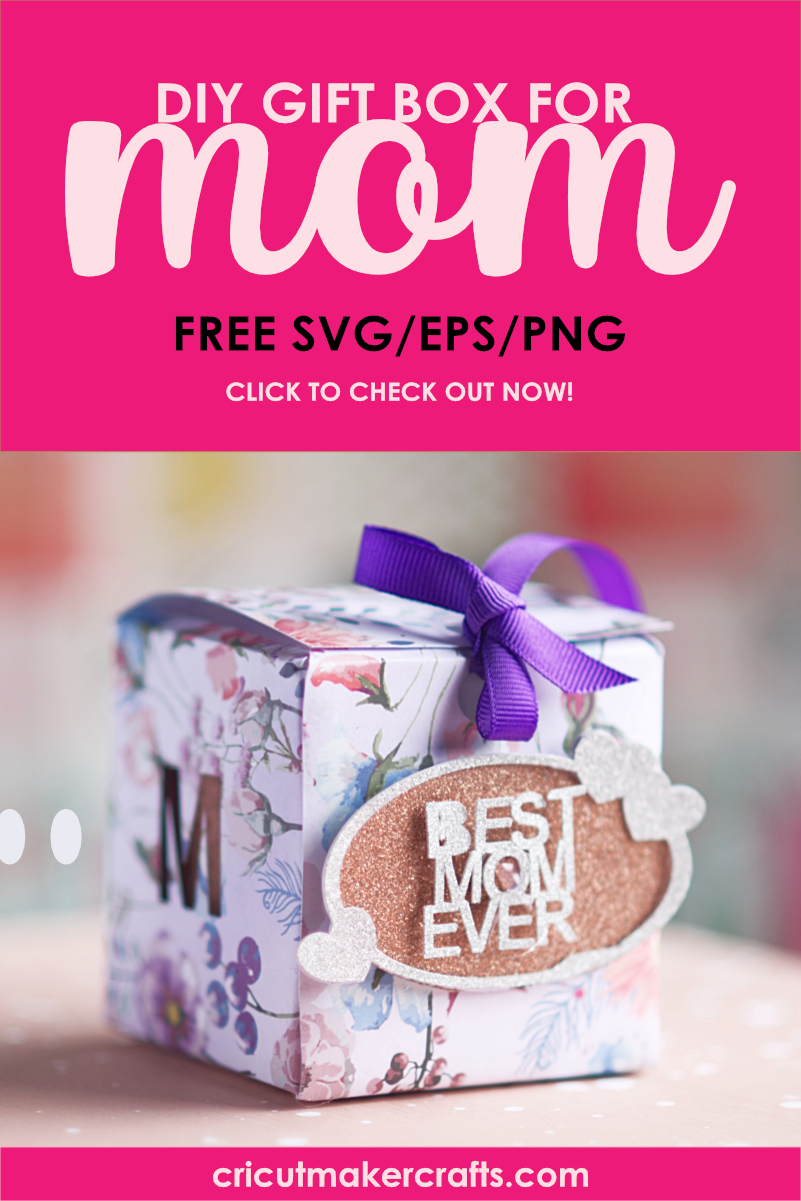 The idea of this project started with a simple cube. But then it didn't seem like a practical gift so I ended up turning it into a gift box instead.
If you want to read more about the "behind the scenes", you can scroll down to the bottom of this post.
Okay, enough talking. Now let's make our gift box for Mother's Day.
How to Make a Gift Box for Your Mom – Mother's Day SVG
Let's get started with the Mother's Day gift box tutorial. But first, here's some important Affiliate info.
AFFILIATE DISCLOSURE: Cut N Make Crafts is a participant in the Amazon Services LLC Associates Program, an affiliate advertising program designed to provide a means for sites to earn advertising fees by advertising and linking to Amazon.com.
Techniques Covered in Mother's Day SVG Gift Box Tutorial
In this tutorial you will learn the following important techniques:
How to cut cardstock paper using Cricut
How to join objects/weld in Design Space
How to add custom text with a shadow effect in Design Space
Now, let's look at the list of supplies.
Supplies needed for Mother's Day Gift Box
Light Grip Cutting Mat

Scoring wheel or a ruler
Matching ribbon
Scraps of cardboard from a pizza box or a delivery box
Free SVG file (you can grab this by signing up for the VIP list below).
Video Tutorial for Mother's Day Gift Box
Step-by-step Tutorial for Making Your Gift Box for Mom
Here's a summary of the steps involved in making your own Mother's Day gift box.
Sign up for the VIP library and download the free Mother's Day gift box SVG file from the link given in the Word Doc. If you have a scoring wheel, click on the link given for the file with the scoring wheel.
Choose the colors and patterns for your gift box. You can use a color wheel available on Google to get some inspiration for what colors look good together.
Upload the SVG file on Design Space.
If you want, add custom text to your project. Next, reduce the spacing between the text so that everything appears to be overlapped. Next, select the entire text and click on "Weld" at the bottom right-hand side. This will ensure the entire text gets cut together instead of individual alphabets.
Next, click on "Make it".
Choose the material you're working with from the list of materials.
Load your mat and get everything cut. (IMPORTANT: If you're using glitter cardstock, make sure you place it RIGHT SIDE UP).
To assemble the box, start off by adding score lines using your ruler if you do not have a scoring wheel.
Next, cut out tiny pieces of cardboard from the pizza box.
Use the glue gun to stick the cardboard pieces on the four corners of the square. Repeat this step so that you have two layers of cardboard on each square in all four corners.
Next, glue the squares on the wrong side of the box RIGHT SIDE DOWN.
Next, assemble the box starting from the side right below the flap.
Do not add glue to the edges near the flap.
Add your ribbon and you're done!
The End!
With that, we have reached the end of the tutorial where I showed you how to make a custom gift box for Mother's Day.
If you found this tutorial helpful, make sure you pin it and share it in your fav Facebook group!
If you have any special requests or questions, just drop me a comment below. I'll get back to you ASAP. xx
-Jav
More Beginner Cricut Projects
Don't forget to check out these beginner Cricut projects!