Check out this post for loads of Cricut tips and hacks for beginners that work with all Cricut machines. You'll find tips for Cricut software, Cricut canvas, HTV, and many other Cricut related tips.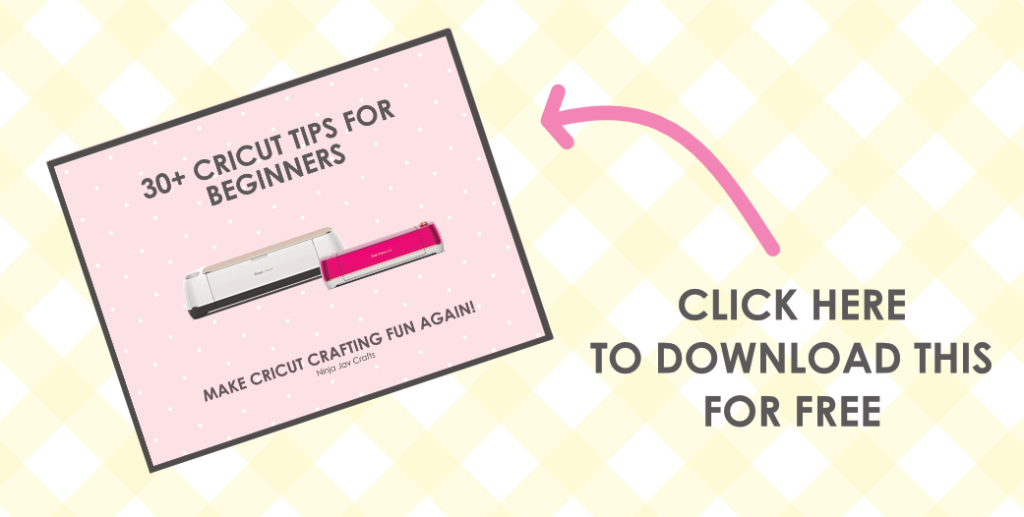 Cricut machines are the BEST invention for crafters in today's world. However, learning and operating a new machine can be quite challenging. But, worry not because I've compiled some of the BEST Cricut tips in this post that will help you in making the PERFECT cuts even if you're just starting out. Check them out below!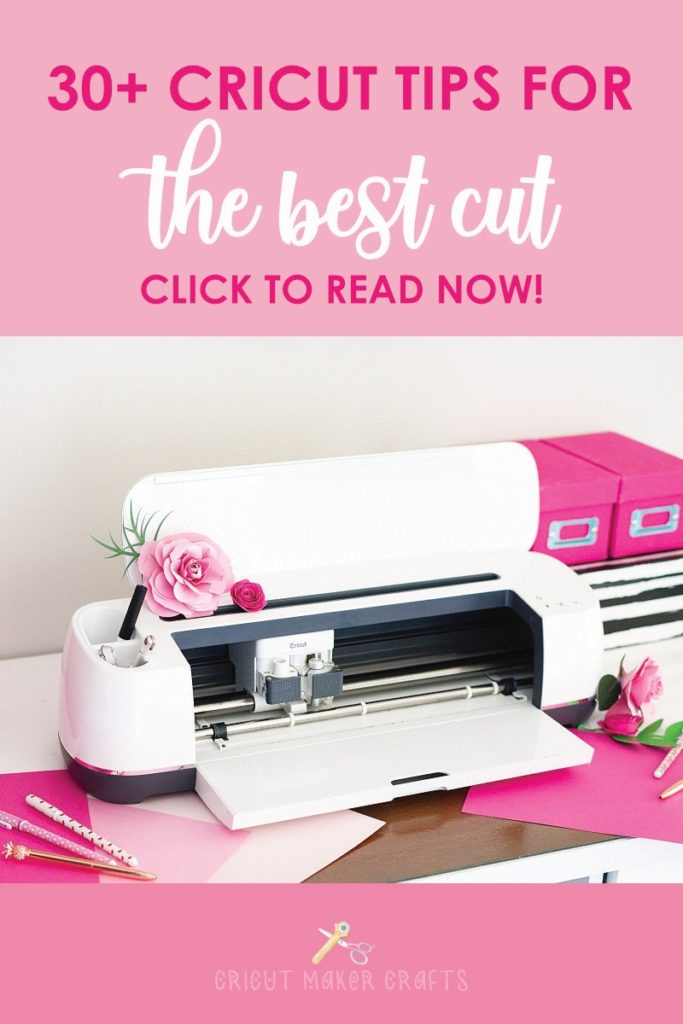 AFFILIATE DISCLOSURE: Cut N Make Crafts is a participant in the Amazon Services LLC Associates Program, an affiliate advertising program designed to provide a means for sites to earn advertising fees by advertising and linking to Amazon.com.
CRICUT MATERIAL TIPS
Always do a test cut and record the settings.
Keep a list of materials and the settings you used for each of the material on your computer in a Word Doc or somewhere near you to refer to.
Mark the material you regularly work with as a "favorite" from the material settings so you won't have to look for it every single time. Instead, you can just click on "favorites" and select the material from there.
When working with a custom design, test it out on a normal copy paper before you use the actual material. This will save your material from going to waste.
When cutting out felt, FIRST, place contact paper on the mat, sticky side up then place felt on top of the contact paper. This will prevent all the fuzz from sticking to the mat.
Use a rubber band or pencil grips around sharpies and gel pens, to attach them to the Cricut pen holder.
Use glue dots instead of liquid glue for paper projects as liquid glue can curl up your papers.
BLADE TIPS
Use a new blade for intricate cuts to get the best result.
Keep separate blades for paper and vinyl because paper can make your blades blunt.
Clean your blade by punching it in and out of a ball of foil before starting a new cut to get the cleanest cuts possible.
CRICUT MAT TIPS
Keep your mats covered with the plastic sheet all the time to prevent dust from getting on it.
Avoid touching your mat with your fingers as the oils on your fingertips can affect the stickiness of the mat.
Make sure you use the correct mat for your cuts. The purple or green mat should never be used for copy paper as it will be very difficult to take it off.
Never put tape around the edges of the mat as it can get stuck.
Some ways to get your mat sticky again is by washing it with a dishwashing liquid and wiping it off with non-alcoholic baby wipes. You can also use Zig Glue to get the mats sticky again. First, remove all the unwanted objects from the mat. Next, spread the glue on it and leave it overnight.
To avoid curling of the paper, pull your MAT away from the paper instead of the other way round. You can do this by placing the mat project side down and pulling it away.
PRINT AND CUT TIPS
When using print and cut, make sure there's no direct sunlight/light falling on the machine as it can mess up with the sensor light and result in wrong cuts.
If your print and cut isn't coming out perfect, make sure you have calibrated your machine. If you're still having issues, wipe the sensor with a clean soft brush or a lint-free cloth.
VINYL AND WEEDING TIPS
Always follow the manufacturer's instructions for vinyl application.
HTV = Heat transfer iron-on vinyl
651 = Permanent vinyl. Used for mugs, cups, plates, glasses, etc. which are washed regularly. Can also be used for outdoor projects.
631: Non-permanent vinyl
If you made a mistake placing your HTV on the fabric, don't worry! You can easily remove it by placing an iron at the back and using the tweezers to pull the HTV piece out.
Always mirror HTV before cutting.
Don't throw the waste from HTV cutouts, instead, store them in a box for later use. You can always use them for small projects.
Use 400 grit sandpaper to sharpen the tips of your weeder tool.
When creating iron-on or other vinyl projects, make use of the templates provided in the Design Space library. This will help you in figuring out the perfect size for the cut.
Always clean the surface with alcohol when applying the vinyl to objects like glasses.
To make sure your iron-on projects are not crooked, do the following. Use a chalk/disappearing marker to draw a square using a quilter's squares on the shirt. The other thing you can do is iron the shirt to add a crease line in the center as a guide. You can also get some T-shirt squares to act as a guide.
For small, hard to reach project, try using your hair straightener to transfer the iron-on.
Use a weeding box when working on a weeding project to minimize waste and make things easier. Here's a video by Expressions Vinyl showing how to do it.
CRICUT DESIGN SPACE TIPS
When you're working on the canvas, press the question mark on your keyboard and the keyboard shortcuts will pop-up.
If you want to cut out two same projects and you forgot to duplicate it, you can just load a new mat with material and it will cut again. You don't even have to restart the project or click on the finish.

(

Since you cannot "unweld" any object after you weld it, make sure you duplicate the object and hide it from the mat when cutting so you won't have to restart the project.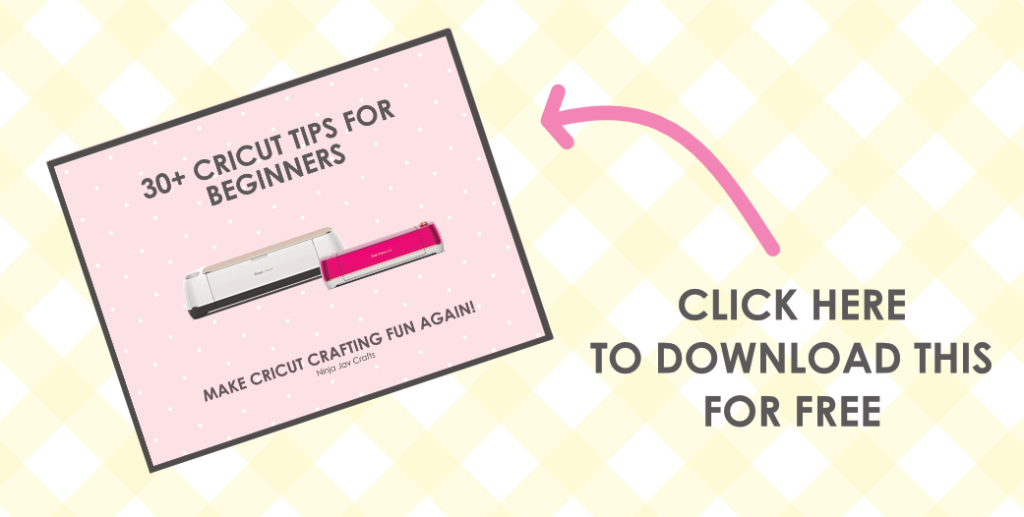 THE END!
With that, we have reached the end of the post where I shared with you some of the most helpful tips for the best cut when working with your Cricut.
Have more tips to add? Share them below!
CRICUT CRAFTS
Don't forget to check out these Cricut crafts!