In this post, you'll learn how to layer vinyl by creating registration marks in Cricut Design Space in 5 simple and easy steps. Also covered in this post: how to make multi-layer vinyl decals and how to assemble a four-layer decal and how to seal vinyl on cups and utensils.
Guess what happens when you ask your husband to make a cup of tea.
"Honey, where's the sugar?"
"Babe, where's the tea?"
"Honey, where's the milk?"
And the questions go on and on, until you decide to just get up and do it all by yourself.
Or you could do something better – LABEL IT ALL! And thanks to Cricut, you can create some super adorable labels for literally anything in your house!
So that's exactly what I did.
I hand-drew these adorable labels for my kitchen, cut them out using Cricut and added them onto the jars from Ikea. I used Oracal 651 adhesive vinyl and Cricut premium vinyl for this project. I just LOVE how cute they turned out.
If you would like to make these vinyl labels, scroll down!
MASTER VINYL CRAFTS WITH THIS E-BOOK
Get my ebook The Ultimate Life-Saver Vinyl Guide for Beginners with tips and secrets for weeding, and working with small letters.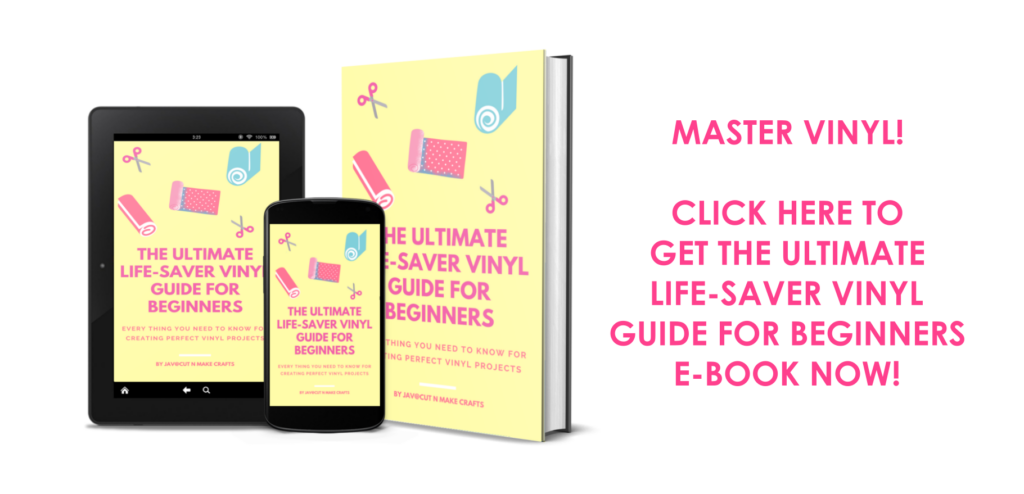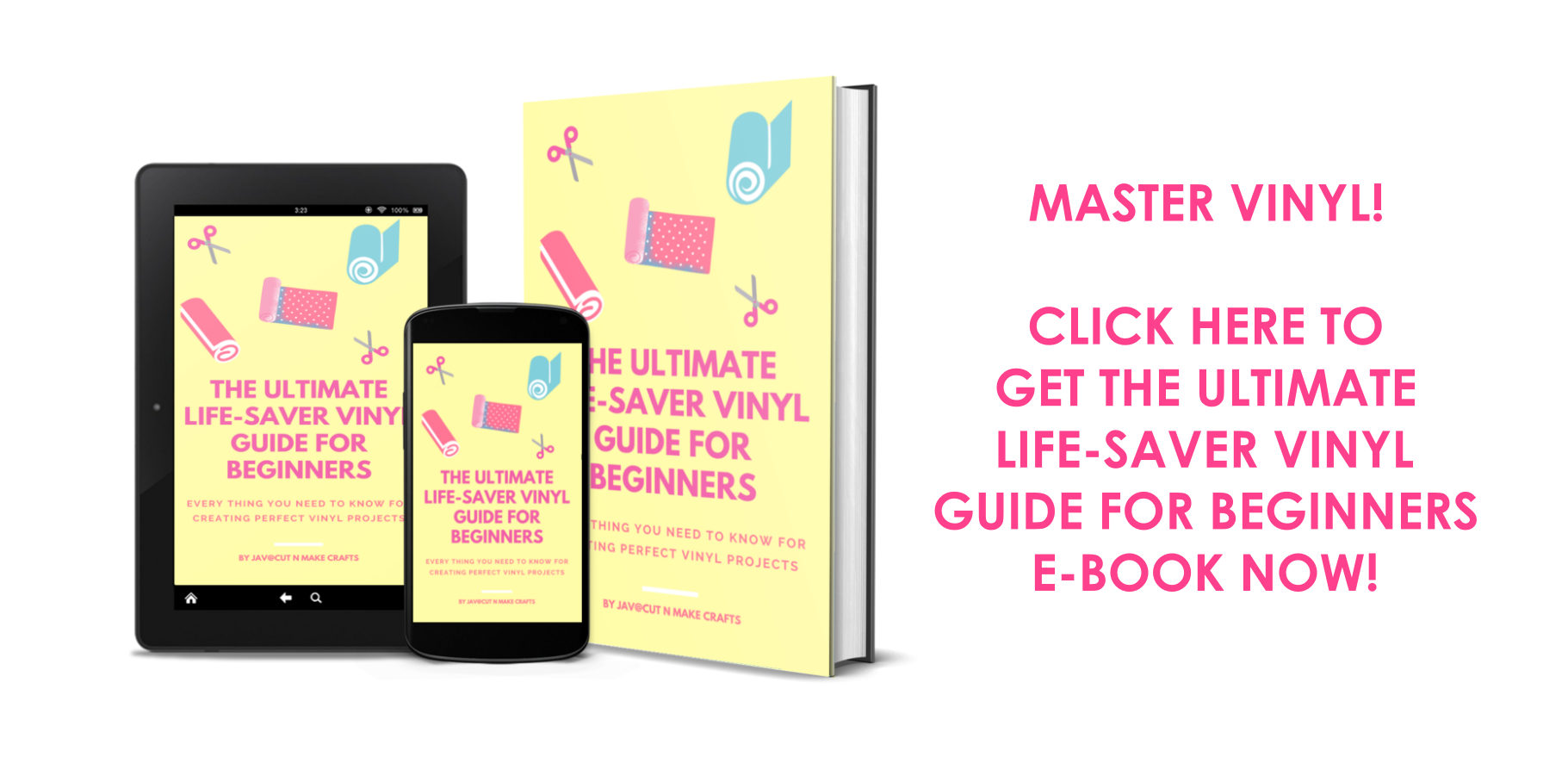 DISCLAIMER: Cut N Make Crafts is a participant in the Amazon Services LLC Associates Program, an affiliate advertising program designed to provide a means for sites to earn advertising fees by advertising and linking to Amazon.com.
DIY Layered Jar Labels with Cricut
Supplies Needed
For this project you will need the following supplies:
How to Layer Vinyl in Cricut Design Space
To layer vinyl perfectly, we need to create registration marks before we start cutting. The registration marks help in aligning one layer on top of the other layer perfectly.
To create registration marks, all you need to do is, create multiple copies of your artwork depending on the number of layers your artwork has. Next, add four diamonds, one on each corner of the artwork as shown below. We're using diamonds here because it has multiple points which make aligning the vinyl 10x easier.
Once you've added the registration marks on all 4 corners, select all and attach everything so that it doesn't move around when we move to the mat.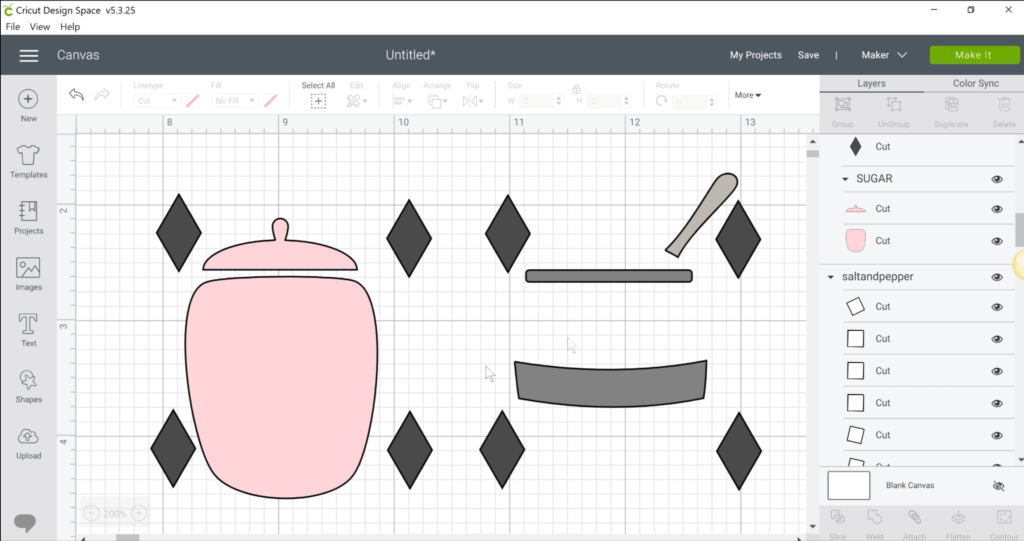 How to Cut Vinyl on Cricut
Once your artwork is ready, it's now time to cut the vinyl. If you're using Cricut vinyl, just turn the dial to vinyl on your Cricut Explore Machine, load the mat and cut it out.
However, if you're using the Cricut Maker, select the vinyl from the materials settings.
Place the vinyl right side up onto the mat, load the mat and get it cut. Cut out all the different pieces of the artwork.
Tips for Layering to Get Perfect Layers
Once the cutting is done, you can start working on the layers. This needs to be done strategically. Here are a couple of things to keep in mind when layering.
Leave the vinyl stuck to the mat. Weed the vinyl on the mat.
Use a transfer tape larger than the size of the artwork.
Start transferring the topmost layer first. So for this project, the text was my topmost layer so I transferred the text onto the tape first followed by the "spoon and the accent" and lastly the "pot and the lid".
If you're using glitter adhesive vinyl, which can be stubborn to work with, flip the vinyl and burnish it from the back.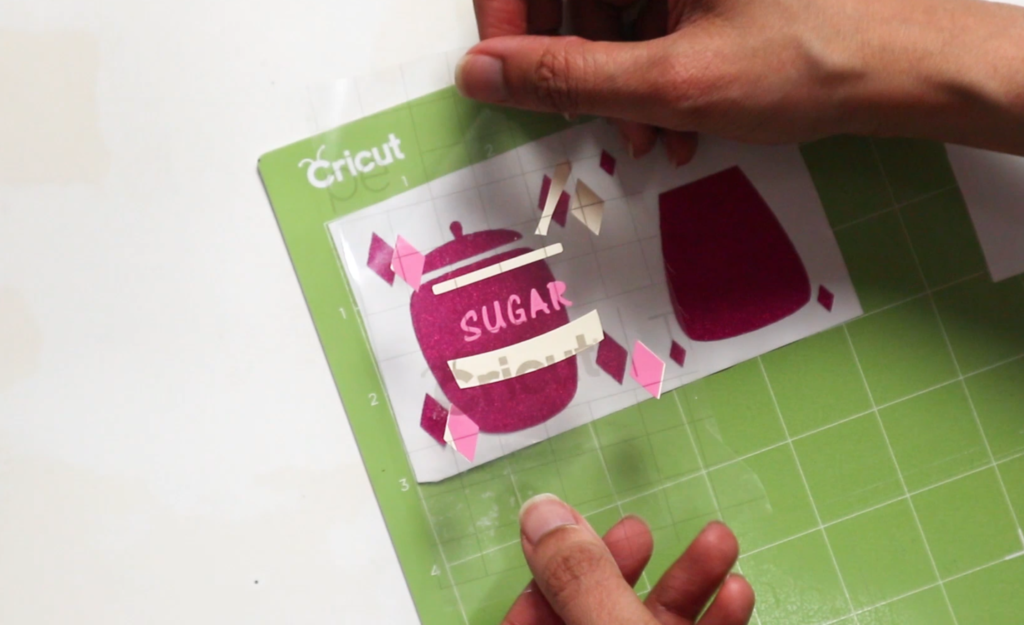 How to Seal Vinyl
If you're using vinyl for utensils or for outdoors like a car, it's best to seal the vinyl to make it long-lasting. Sealing will prevent the vinyl from shrinking and peeling off when it comes in contact with water.
There are three different types of sealants that you can use to protect your projects. The type of sealant that you use to seal your vinyl project depends on the type of project.
For utensils that are used regularly, its best to use the dishwasher safe ModPodge or DecoArt Triple Thick as both of these are non-toxic. The only problem with Triple Thick is that it leaves a very thick layer on the project which can actually be felt.
If using dishwasher safe ModPodge you'd have to wait for 28 days for it to completely dry and form a protective layer. Until then, it's best to just handwash the mug/utensil. But if you're in a rush especially if you're selling custom mugs, I'd suggest going for DecoArt Triple Thick.
For outdoor projects, the best selant to use is Polycrylic. One thing to keep in mind is to make sure you apply thin coats with intervals as a thick coat might cause the vinyl to curl up.
How to Apply the Sealant
To apply, the sealant simply use a paint brush and coat the entire vinyl with the sealant. If you want you can cover the entire surface of the project.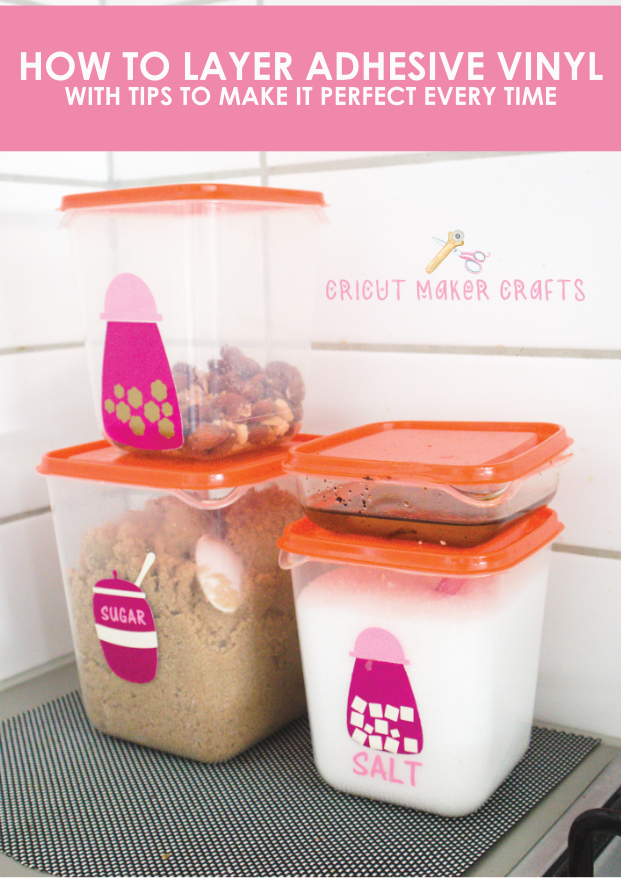 More Helpful Cricut Posts
With that, we have reached the end of this post. Please share this tutorial on how to apply layered vinyl with your Cricut buddies. Also, check out these helpful Cricut posts.