In this post, you'll learn the details of Cricut blades and what each of them is used for. We will cover the blades used for all the different Cricut machines along with some common Cricut blade questions like how long do Cricut blades last and how to replace the blades?
Hello Cricut buddies! Welcome to Cut N Make Crafts!
If you're new to the Cricut world you might have loads of questions about the Cricut blades and their uses. Don't worry, it's a very common thing and every single crafter starting out with Cricut has these questions including yours truly. 😉 
When I first got my Cricut Maker I had no idea about all the different blades. I didn't even know what blades were included in the box and which weren't. 
After some digging, I was able to find all the answers which I'm going to share with you so you don't have to waste time looking for the answers to most common Cricut blade questions.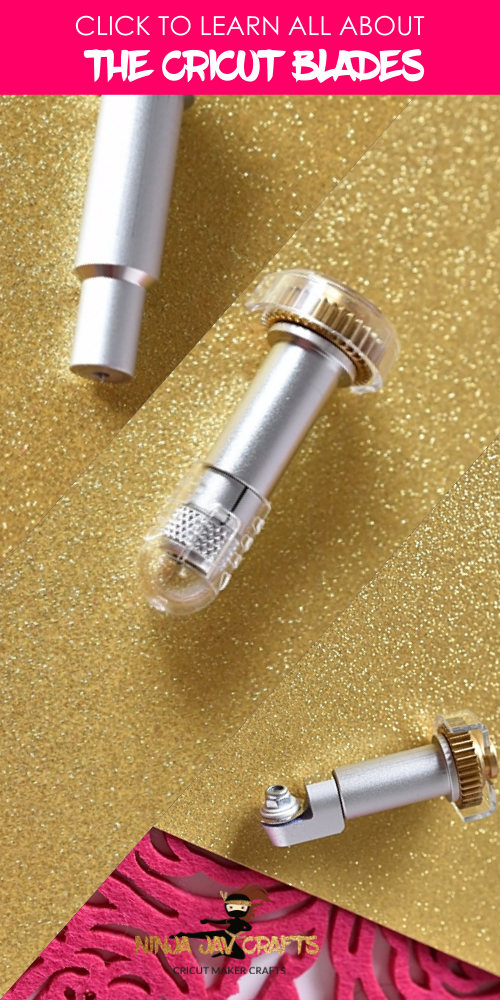 AMAZON AFFILIATES DISCLOSURE: Cut N Make Crafts is a participant in the Amazon Services LLC Associates Program, an affiliate advertising program designed to provide a means for sites to earn advertising fees by advertising and linking to Amazon.com.
Cricut Blades and Their Usage
How many types of blades does Cricut have?
One of the most common questions that every beginner has is how many different types of Cricut blades are out there?
The answer is, there are in total SIX (6) different types of Cricut blades. All of these blades work with Cricut Maker but only THREE (3) of them work with the Explore family.
Let's have a look at each of them in detail.
1) Premium Fine Point Blade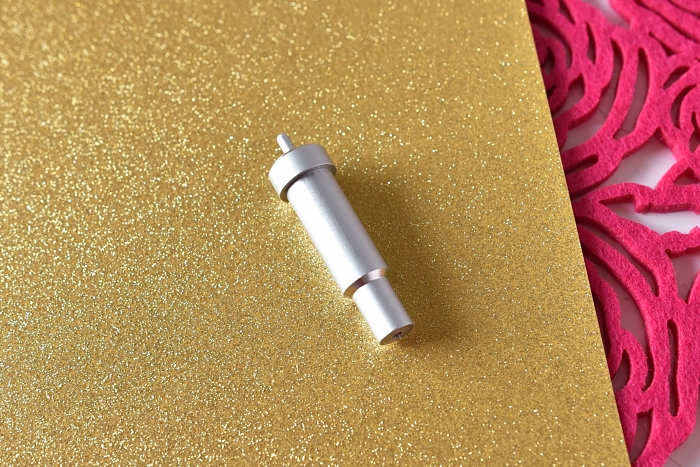 The Premium Fine Point Blade is the blade that comes with your Cricut machine when you purchase it. It's compatible with both the Maker and Explore Cricut machines.
The Premium Fine Point Blade is the MOST versatile blade of all. It can cut a HUGE variety of thin and thick materials like vellum, cardstock, vinyl, faux leather, and any other light-medium weight material. This is the blade I use for 70% of my projects.
TIP: One thing to keep in mind when using this blade is that paper tends to make the blades dull. Therefore, it's best to keep two different blades; one JUST for paper and the other for the rest of other stuff like vellum and vinyl.
If your blade loses it's sharpness due to excessive usage, you can fix it by punching it in a ball of aluminum foil. It might sound crazy, but trust me, the results are AH-mazing so DO give this technique a try before buying a new one.
For more blade tips, check out this post —>Cricut Tips for Beginners for the Best Cut
2) Deep Point Blade
The Deep Point Blade might seem quite similar to Premium Fine Point Blade. As a beginner, I used to get extremely confused between the two.
However, they have a major difference between them. The Deep Point Blade is made of a harder, more durable steel with a steeper angle of 60 degrees which makes it extremely sturdy to work with. It is used to perform INTRICATE CUTS on thicker materials like a magnet, chipboard, stamp material, thick cardstock, stiffened felt, foam sheets, cardboard, and some fabrics.
Remember, it's not for ordinary cuts, it's for INTRICATE CUTS on THICK MATERIALS.
It's black in color and can be used with both the Maker and Explore machines. Also, this blade CANNOT be interchanged with other blade's housing.
3) Bonded Fabric Blade
Bonded fabric blade is designed JUST to cut fabrics. The idea behind this blade is to have something solely for fabrics, JUST like you wouldn't use your fabric scissors for cutting paper and other stuff. One thing to note is, to use this blade, you need to FIRST fuse your fabric to the interfacing.
This blade comes in pink color to match the pink FabricGrip mat and can be housed in both Bonded Fabric Blade and Premium Fine Point blade housing. This means you don't have to purchase the pink housing for this blade, you can just use the Premium Fine Point Blade housing.
The Bonded Fabric Blade can be used with both the Cricut Maker and Explore machines.
4) Rotary Blade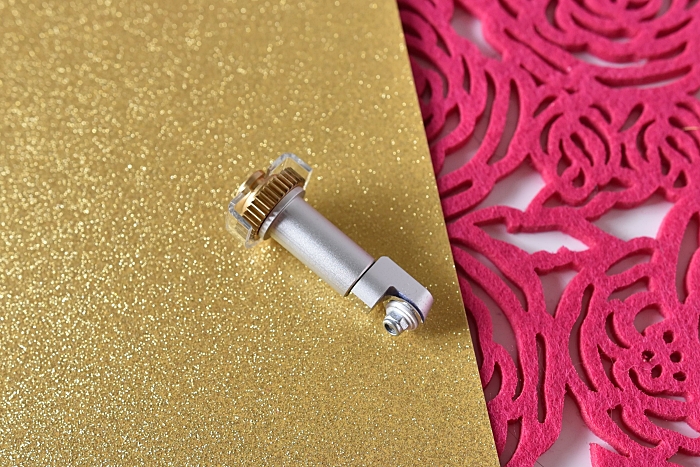 As the name suggests, the Rotary Blade is like a mini rotary cutter designed for the Cricut Maker to cut fabrics. Now, you must be wondering why are there TWO different blades for cutting fabrics?
Well, here's the answer. The Rotary Blade allows you to cut literally ANY kind of fabric (soft or thick) WITHOUT a backing. Yep, think tulle, chiffon, organza, denim, corduroy, the list is HUGE. This was NOT possible with the Bonded Fabric Blade. Now, do you see the difference?
Honestly, I'm SO glad I got the Maker as my first Cricut with the Rotary Blade or else I would've gone bonkers spending 10,000 minutes fusing the fabric all to get it cut using the Bonded Fabric Blade.
Also, the Bonded Fabric Blade was released BEFORE the Rotary Blade and Cricut Maker to allow sewists to make use of the magical Explore machines but with the release of the Maker things for sewists went to the next level due to the Rotary Blade. Yippe!
The Rotary Blade is only compatible with the Cricut Maker.
5) Knife Blade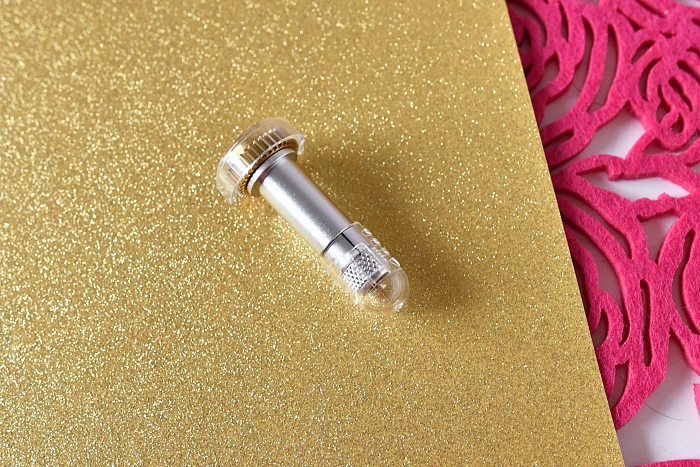 The mighty Knife Blade is designed to cut pretty thick materials like Basswood, Balsa Wood, Chipboard, Matboard up to 2mm (3/32″) in thickness. How amazing is that!
This opens up SO MANY opportunities for crafters. Think home decor projects, screens, overlays for literally any part of the house, wooden keychains and the best part, WOODEN PUZZLES for kids!
I've also used the Knife Blade to make this sign for my craft room using recycled postage cardboard and it turned out AH-MAZING.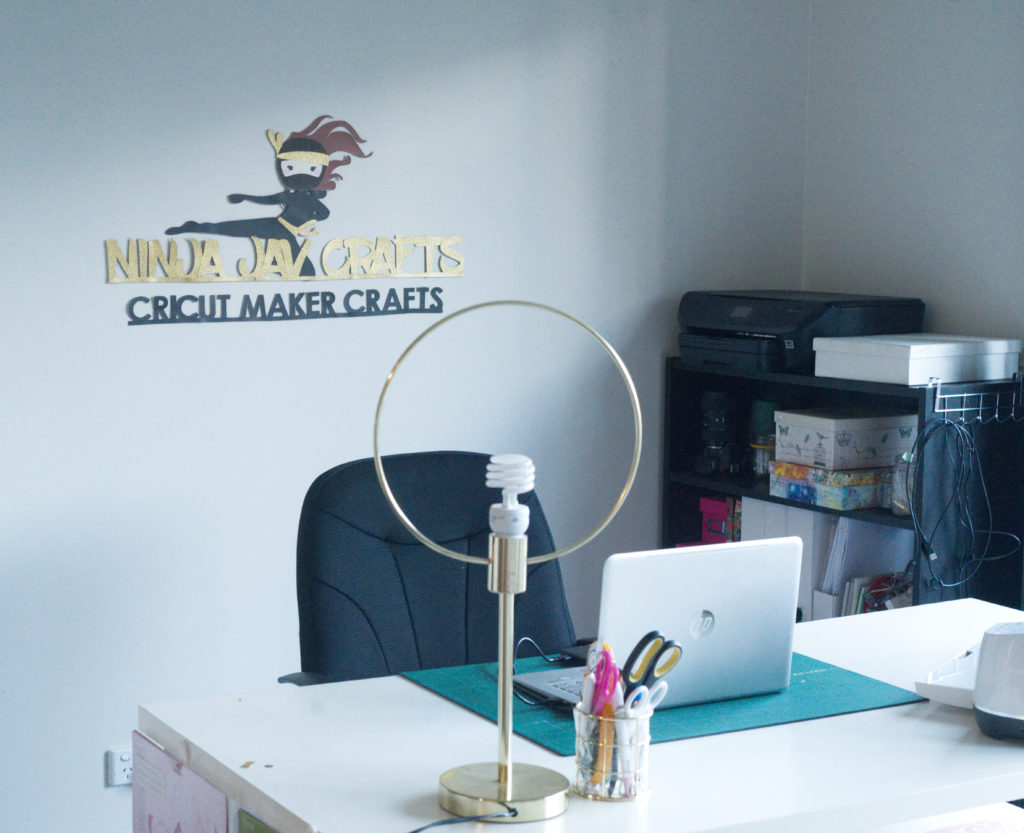 One thing to keep in mind when using the Knife Blade is to always move the star wheels all the way to the right so that it doesn't leave marks on your project. To find out how to move the star wheels, check out this article –> How to Move the Star Wheels?
The Knife Blade only works with the Cricut Maker.
To find out more about the Knife Blade, check out this video by Cricut.
---
6) Scoring Wheel
The Cricut Scoring Wheel is perfect for crafters who do loads of paper crafting and card making. It's designed to apply 10x MORE pressure compared to the scoring stylus.
I haven't purchased one just yet due to the tight budget. For now, I'm just working with my scoring stylus which does the job for me because I just work with paper.
However, if you work with thicker materials and would like to add score lines to those materials, you can use the Single or Double Scoring Wheels.
The scoring wheel only works with the Cricut Maker.
Here's a quick overview on what blade is used for what machine by Cricut.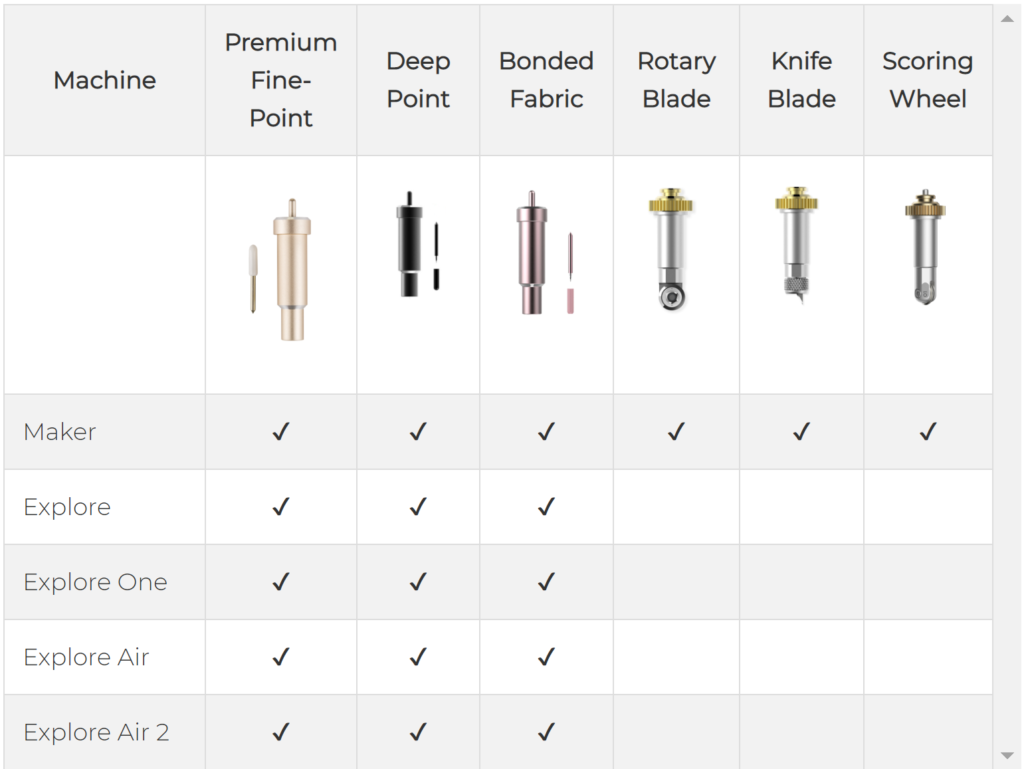 Other Common Cricut Blade FAQs
How do you sharpen the blades?
To sharpen up your blade, stab it in a ball of aluminum foil 70-100x.
How long do Cricut blades last? When do I need to replace them?
This is a completely subjective question and depends on how often you use your blade and the purpose you use it for.
For example, if you do a lot of paper crafting, you would need to change your blade more frequently than someone who mostly works with vinyl because paper tends to make the blades dull.
Also, for the best results, keep a completely separate blade JUST for paper.
Now, when do you know it's time to change the blade?
You should change the blade when even after sharpening the blade, it doesn't give clean cuts. For this project, I used a blade that I sharpened right before the project yet some parts of the cut didn't come out clean as you can see in the photo below. So, I know the time has come to change the blade because even after sharpening it, the results aren't perfect. Note that this has happened quite a few times.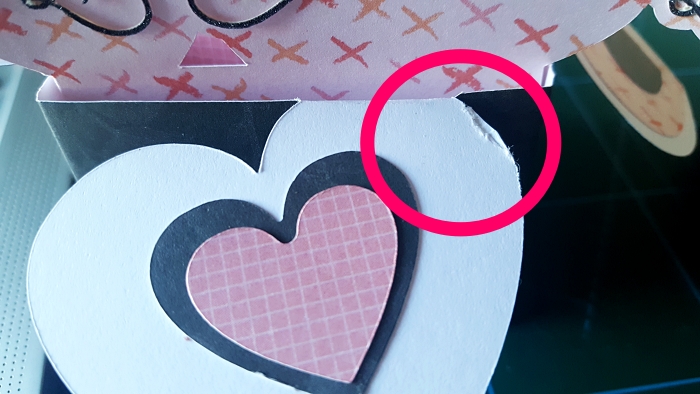 How to replace a Cricut blade?
The method for changing the Cricut blades is different for each of the different styles of the blades. For Premium Fine Point Blade, Bonded Fabric Blade and Deep Point Blade you can use the method shown in the video below.
For changing the Knife Blade, you can follow the procedure given below.
For changing the Rotary Blade, follow the instructions shown in the video below.
Can Explore blades be used with the Maker?
Yes, all three Explore blades can be used with the Maker BUT the Maker blades (Rotary, Knife, and Scoring) CANNOT be used the Explore.
Do you need all the blades when you're just starting out?
That depends on what type of crafting you're planning to do with your Cricut.
If you're getting a Maker or Explore and planning to use it for paper, fabric, faux leather, and vinyl crafting then you don't need to purchase any extra blades because the blades that come with your machine (Premium Fine Point and Rotary) are enough.
However, if you're purchasing the Cricut Maker to work on wooden projects, you'd need to get the Knife Blade with it.
What blade to use for intricate cuts with lots of details?
There isn't a special blade for intricate cuts. The blade you use for intricate cuts depends on the material you're using. So, if you're cutting paper with intricate cuts, you'll use the Premium Fine Point Blade, for intricate cuts on thicker materials (like chipboard and magnet), you'll use the Deep Point Blade.
I do advise to keep a separate blade JUST for intricate cuts because paper makes blades dull and for intricate cuts you need to have a sharp blade.
Can the Deep Point Blade cut into Perspex or Acrylic?
Yes, you can cut Acrylic with your Cricut using the Deep Point Blade. But make sure you have all the protective gears such as safety glasses and Latex gloves. Also, the thickness of your Acrylic sheet shouldn't be more than 1.5 mm.
Where to buy a replacement blade?
You can get replacement blades from the Cricut store here or from Amazon here.
How often do you sharpen the blades?
Honestly, there's no set timing for when exactly you need to sharpen your blade. You just need to keep an eye on your cuts. You can sharpen your blades whenever you notice that the projects don't come out clean especially when there's a lot of tear in the paper/vinyl.
What blade to use for faux leather?
For faux leather which is paper thin, Cricut recommends using the Premium Fine Point Blade. For any other type of leather which is thicker such as garment and tooling leather, you need to use the Knife Blade.
How to extend the life of your blade?
To make your blades long-lasting, it's best to keep separate blades for all the different types of projects as mentioned earlier. That said, the paper will always make your blades dull so there's no workaround that other than sharpening the blade before every project using the method mentioned in the previous question.
Where to buy wood for the Knife Blade?
The Knife Blade can cut two different types of wood; Balsa Wood and Basswood but their thickness shouldn't be more than 2mm. Best is to use the wood available at the Cricut store because it's manufactured and tested to use with Cricut. Right now, Cricut only sells Basswood which you can purchase by clicking here: Cricut Basswood.
Balsa Wood can be easily purchased from Amazon. Click here to order some now!
Download this article for later
If you would like to save this article on your computer for later, you can sign up with your name and email address below. Once you sign up, I will send you a download link on your email address.
More Cricut Tips
With that, we have reached the end of the post where I shared with you all the details about Cricut blades and what they are used for along with some common blade related questions.
If you're a beginner, looking for more Cricut help, do sign up to download this FREE e-book 30+ Cricut Tips for Beginners by entering your name and address below.
Lastly, don't forget to save this image for later.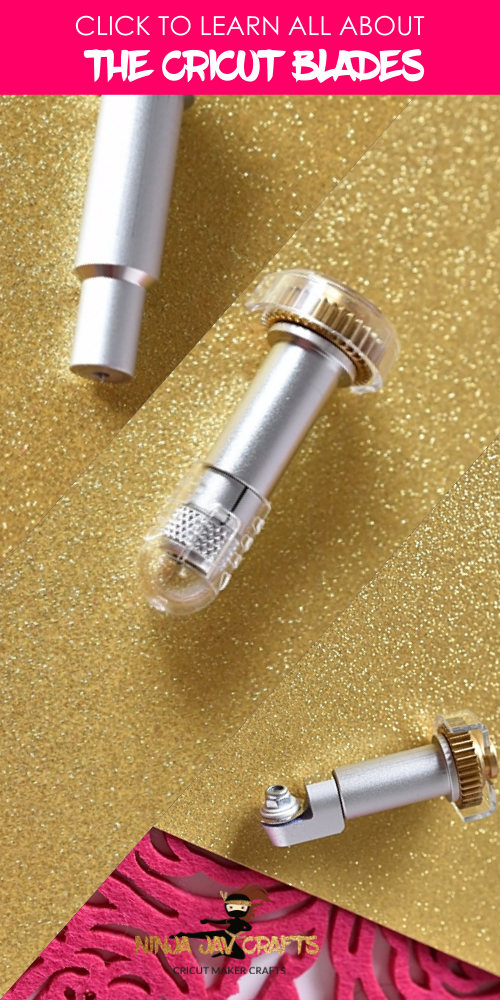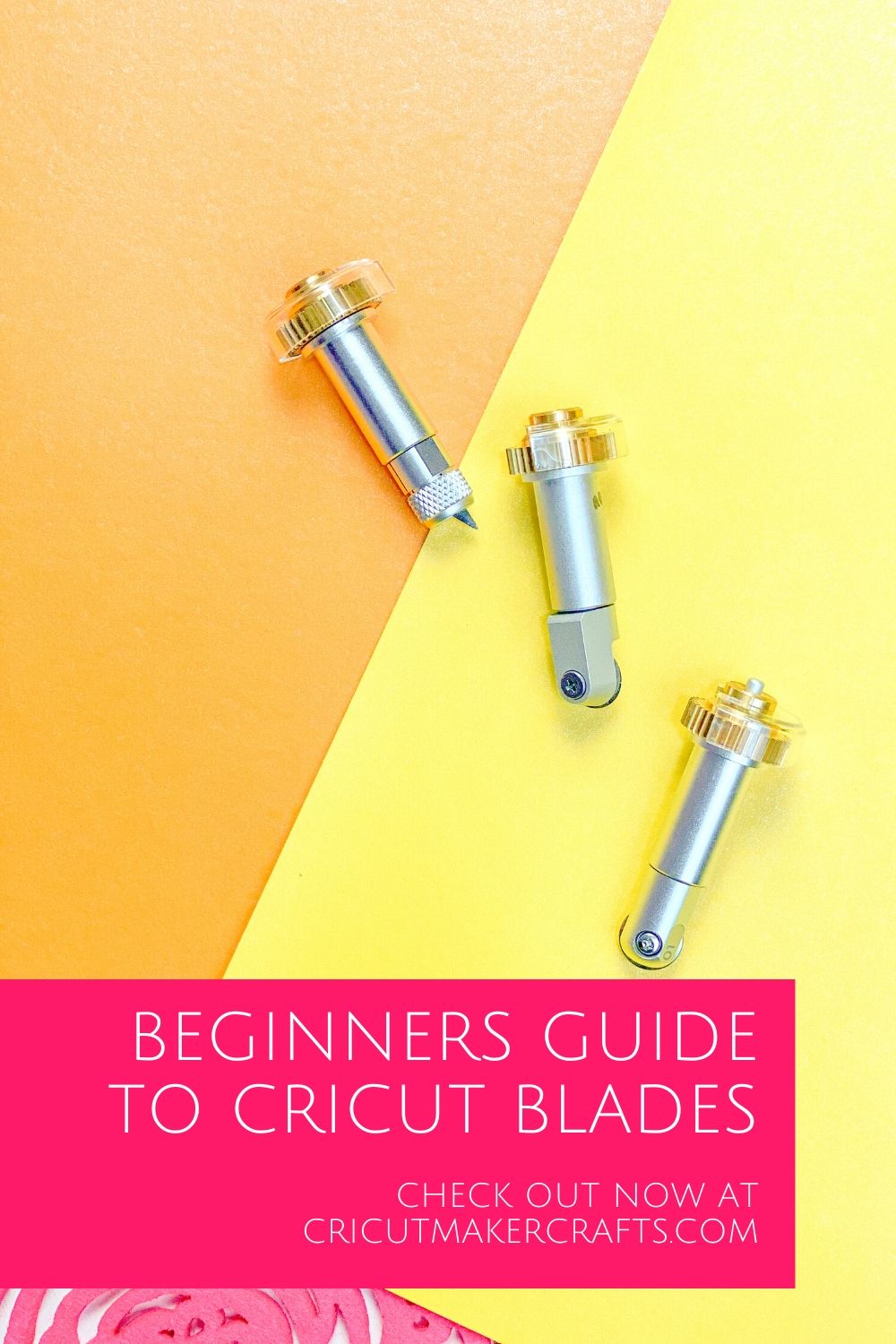 Also, check out these posts: