In this post, I'm sharing rolled paper flower SVG for Cricut along with the tutorial on how to turn a photo into a decal using Inkscape. This free rolled paper flower SVG can be resized to create rolled paper flowers of various sizes depending on how you like.
These past two days have been CRAZY. First, I lost my friend's cat and I was SO SO stressed out about it. Couldn't sleep at night wondering where on earth the poor kitty is and how to get it back. The next day I was so stressed out, walking all around the neighborhood in search of the cat and in my stress, I thought one of the neighbor's cats hiding in her garage is my friend's cat. Turned out, IT WASN'T and my neighbor was pretty mad about me stalking her cat.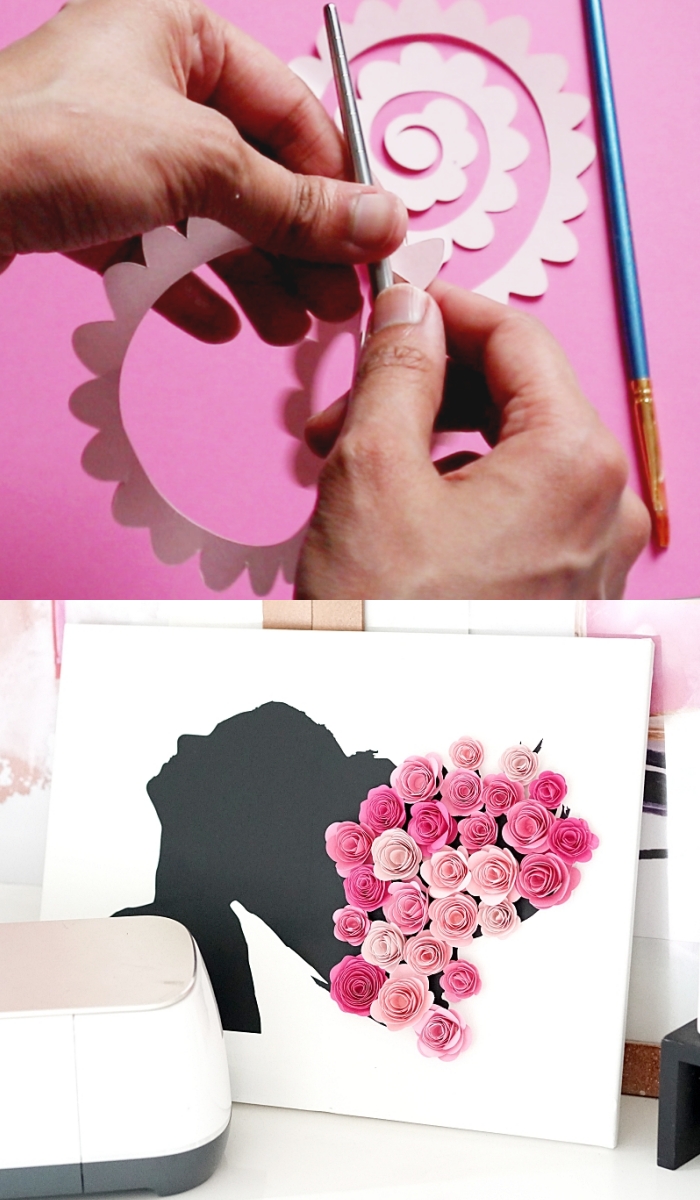 Anyway, my friend's back from the holidays and when I told her about the cat, she took it all in very calmly and told me not to stress about it anymore. Ah, I feel so much better now after talking to her. Finally, I can sleep at night.
Okay onto today's tutorial where I'm sharing how to create rolled paper flowers and turn a portrait or an image into an SVG decal that you can cut out using Cricut on vinyl or paper.
Techniques Covered in This Tutorial
These are the techniques that you will learn in this tutorial:
How to turn a portrait into a decal using the free software Inkscape
How to crop out unwanted portions from artwork in Design Space
The best cardstock paper to use for rolled paper flowers
How to make rolled paper flowers
How to transfer adhesive vinyl WITHOUT a transfer tape on a large project.
AFFILIATE DISCLOSURE: Cut N Make Crafts is a participant in the Amazon Services LLC Associates Program, an affiliate advertising program designed to provide a means for sites to earn advertising fees by advertising and linking to Amazon.com.
Supplies Needed for DIY Rolled Paper Flowers Canvas Art
Free for personal use rolled paper flower SVG (available for VIPs; become a VIP memeber by signing up for the email list below.)
mailerlite
Important Tips for Choosing the Right Cardstock for Rolled Paper Flowers
When choosing cardstocks for making rolled paper flowers, make sure the cardstock is
65lb in weight – this weight cardstock is THE BEST for making flowers
the cardstock shouldn't have a white center core
it should be colored on both the back and the front
Here are some cardstocks brands that I recommend for creating paper flowers.
Video Tutorial – How to Make Rolled Paper Flowers
More Helpful Cricut Posts and Projects
Check out these amazing Cricut posts on Cricut Maker Crafts
Please Share and Spread the Love