In this post, you'll get to learn everything you need to know about Cricut Mats. You'll also learn how to clean your Cricut mats, how to make mats sticky again, as well as how to store Cricut mats.
Hey, Cricut buddy! Welcome to Cut N Make Crafts!
So, you just got your Cricut and are super confused about all the mats?
Don't worry, I was going through the same thing when I got my hands on magical Cricut Maker.
It's quite tough to wrap your head around all the info when you're starting out because Cricut mats come in various colors which might seem quite a bit confusing when you're new to the Cricut world. So, to make things easy for you here's some quick info on Cricut Mats and what they do.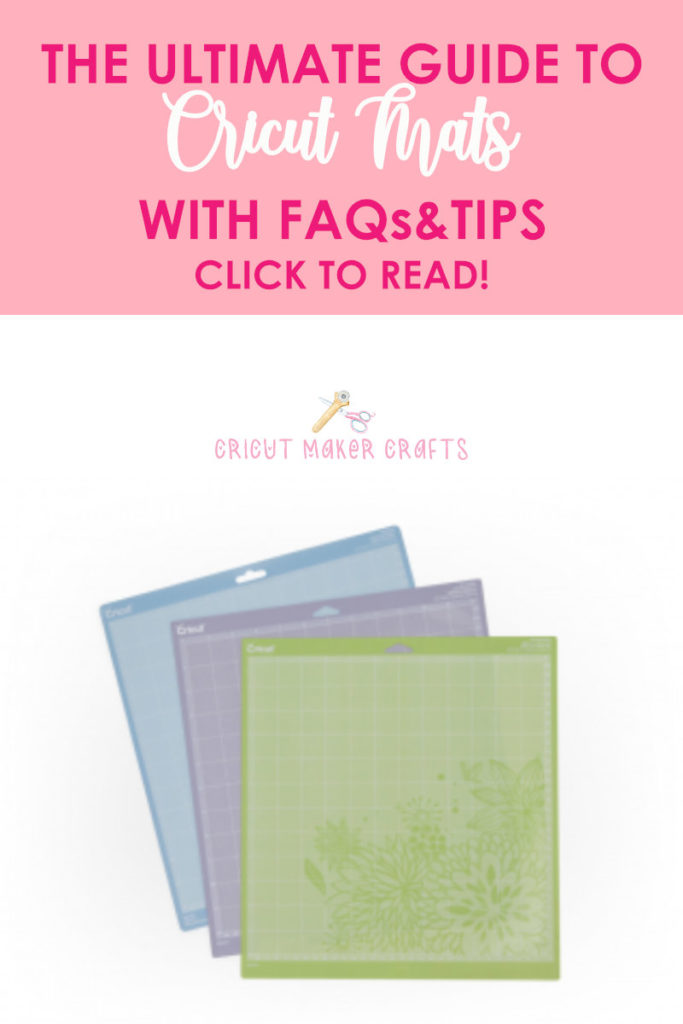 AFFILIATE DISCLOSURE: Cut N Make Crafts is a participant in the Amazon Services LLC Associates Program, an affiliate advertising program designed to provide a means for sites to earn advertising fees by advertising and linking to Amazon.com.
Cricut Mat Sizes
As a beginner, one of the most common questions I had was about the size of the mats. I was quite confused with all the information I found online so here's a quick note on Cricut mat sizes for you.
Cricut mats come in two different sizes ONLY. The two sizes are:
Here's an image showing the two different mat sizes that are available to use with Cricut.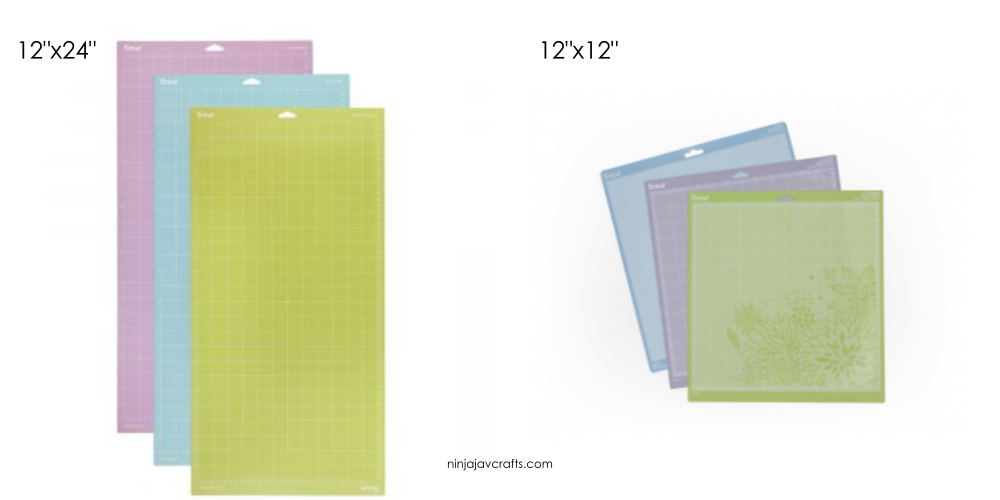 Now that you know what sizes Cricut mats are, it's time to look at the different colored mats and what they do.
Types of Cricut Mats and Their Uses
Before we get into the details, here's a quick overview of the different types of Cricut mats and their uses.
MAT TYPE
USE
Blue LightGrip Mat
Light-medium weight card-stock
Copy paper
Vellum
Vinyl, etc.
Green StandardGrip Mat
Cardstock
Pattern paper
Embossed cardstock
Iron on
Vinyl
Purple StrongGrip Mat
Cork, Vinyl/Faux Leather
All different kinds of real leather
Balsa Wood
Thick cardstock
Glitter cardstock
Magnet material
Chipboard
Poster board
Pink FabricGrip Mat
All kinds of fabric including:
Cotton, Linen
Medium weight interfacing
Poplin, Fusible fleece
Blue LightGrip Mat
The Blue LightGrip Mat is perfect for lightweight materials like light-medium weight card-stock, copy paper, Vellum, vinyl, etc.
That said, I have used the LightGrip mat for heavy materials like cork fabric and faux leather as well without any issues.
Green StandardGrip Mat
The Green StandardGrip mats are perfect for medium weight projects. Cricut recommends using the following materials for the StandardGrip mats:
Cardstock
Pattern paper
Embossed cardstock
Iron on
Vinyl
Purple StrongGrip Mat
The Purple StrongGrip mat comes with the strongest adhesive surface. Cricut recommends using this mat for the following materials :
Cork, Vinyl/Faux Leather
All different kinds of real leather
Balsa Wood
Thick cardstock
Glitter cardstock
Magnet material
Chipboard
Poster board
Pink FabricGrip Mat
The Pink FabricGrip mat is designed ESPECIALLY for fabrics. Although I regularly switch materials for the other mats, I keep FabricGrip mats JUST for fabrics. Here are some of the fabrics:
Cotton, Linen
Medium weight interfacing
Poplin, Fusible fleece
Tips for using FabricGrip mat
Make sure your fabric is not wrinkled so iron it before placing it on the mat.
Cut your fabric so that it fits perfectly on the mat or else the extra fabric can get caught in the roller blades and cause trouble.
Be mindful of the grain lines on the fabric. Follow the direction of the numbers in the mat preview section to find out the direction in which the grain lines run. If the numbers are top to bottom, it means the grain line in also top to bottom.
Always place your fabric pretty side down on the mat.
Lightly place the fabric on your mat and then use the brayer tool/rolling pin/tissue roll to smoothen the fabric and get rid of any bubbles.
When using stretchy fabric, make sure you don't stretch it while placing it on the mat. If your fabric is stretched, remove it from the mat and place it back without stretching.
Follow the prompts in Design Space for the blade that you need to use. For usual fabrics, the machine uses the rotary blade but for leather fabrics it uses the deep cut blade. Make sure you use the correct one.
When removing the fabric from the mat, use a tweezer or the spatula. Avoid touching the mat with your hands at all cost as the oils from the fingers can ruin the mats.
How to Clean Cricut Mats
Cleaning your Cricut mats is quite easy.
All you gotta do is, add some dish-washing liquid to the mat, and then lightly scrub off the dirty stuff using the soft side of your sponge.
Honestly speaking, I was quite terrified to try this method at first, so I cleaned the 12″x12″ LightGrip mat to test the method out.
And guess what, the results were AH-MAZING. My mat became as good as new. So, yep this technique actually works!
How to Make Cricut Mats Sticky Again
Cricut mats can be quite pricey to purchase especially if you're on a limited budget. But here's a good thing, you can make your mats sticky again by yourself.
To make your mats sticky again, you'll need Zig Glue.
First, get rid of all the unwanted stuff from your mat by washing it, next, spread Zig Glue on top and leave it overnight. Next day, your mat will be good to go!
How to Store Cricut Mats?
The best way to store your mats is by hanging them to hooks because placing them flat on the table takes up too much space. Also, hanging the mats makes them more accessible as you can easily sort them based on the colors.
I have hung my mats around my desk using a dollar store plastic hook and it has made my life SO much easier. I can easily see where each of the mats are and can grab them right away.
Cricut Mat Too Sticky?
Another problem that you might face right after purchasing your Cricut mats is too much stickiness. This happens when the mats are new and haven't been used before.
To get rid of the stickiness or to break-in your mat, you can place place a t-shirt on the mat so that the entire mat is covered and then just removed the tee from the mat.
More Cricut Mat Tips
With that, we have reached the end of the post where I shared with you a complete guide on Cricut Mats covering questions like; how to clean Cricut mats, how to make mats sticky again and how to store Cricut mats.
If you're looking for more Cricut Mat tips, make sure you download the FREE e-book "Cricut Tips for Beginners" which contains 30+ helpful tips to help you with all aspects of Cricut crafting.
Simply enter your name and email address below and I'll send the ebook directly to your email.
Lastly, don't forget to PIN this image for later!
Want more helpful tips? Check out 9 Must-Have Everyday Objects for Cricut Owners