In this post, I'm sharing how to make a custom hand-lettered cake topper using your phone, the free app Adobe Sketch, the free software Inkscape and your Cricut.
Hello, Cricut Buddies! Welcome to Cut N Make Crafts! In this post, I'm sharing a tutorial on how to create your own hand-lettered cake topper from scratch even if you do not have a fancy phone or an iPad.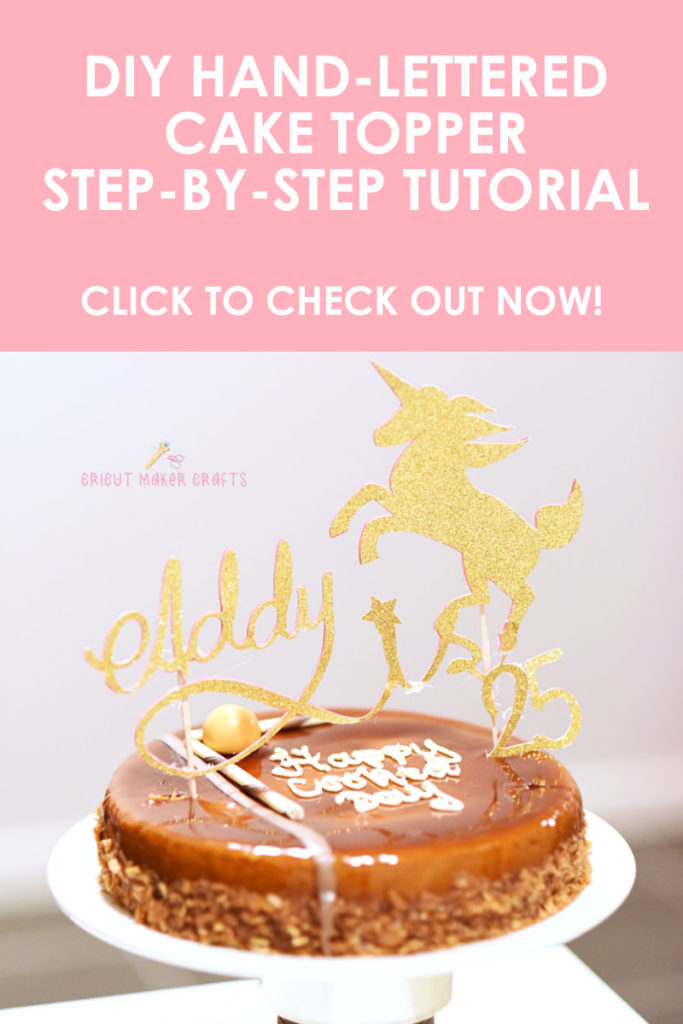 I made this cake topper for my husband. I know, sounds weird with all the Unicorn and gold stuff but, I did this on purpose to take revenge for something he did a few days ago to annoy him because he HATES Unicorns. 😀
Okay, let's get started!
How to Make a Custom Hand-lettered Cake Topper
Let's get started with the custom hand-lettered cake topper tutorial. But first, here's some important Affiliate info.
AFFILIATE DISCLOSURE: Cut N Make Crafts is a participant in the Amazon Services LLC Associates Program, an affiliate advertising program designed to provide a means for sites to earn advertising fees by advertising and linking to Amazon.com.
Techniques Covered in Custom Cake Topper Tutorial
In this tutorial you will learn the following important techniques:
How to cut cardstock paper using Cricut
How to join objects/weld in Design Space
How to hand letter on your phone
How to turn your hand-lettered image into a vector file with a free software
Now, let's look at the list of supplies.
Supplies needed for Custom Cake Topper Tutorial
Heavyweight cardstock (250gsm or more)
Adobe Sketch app on your phone (free)
Inkscape software on your PC (free)
Skewers
Glue Dots
Step-by-step Tutorial for Making Your Own Custom Cake Toppers
Here's a summary of the steps involved in making your own hand-lettered cake topper with Cricut paper flowers.
Download and install the Adobe Sketch app on your phone. It's completely free so go to Playstore (if you have an Android) or Apple App store (if you have an iPhone) and look for Adobe Sketch.
Next, hand-letter your text on the app.
Save the file and email it to yourself.
Download the file on your computer.
Install Inkscape by going to their website and downloading the software.
Next, open up the image in Inkscape.
Right click the image and select "TRACE BITMAP".
In the new dialog box, click on "LIVE PREVIEW" to see the image transformation live.
In the "brightness cutoff" section keep increasing the threshold until you see a black screen.
Once you see the black screen, press the down arrow just once.
Make sure "REMOVE BACKGROUND" option is checked then click "OK".

Now click on the image and drag the vector file to the right.
Delete the actual image.
Next, click on the image>path(from the top menu)>simplify.
Next, play around with the nodes to modify the lines to make them look calligraphic.
Once you're happy, save the file as an SVG.
Upload the file on Design Space and do a test cut.
Once you're happy with the test cut, go ahead and cut out the actual cake topper.
Glue all the layers of the cake topper together and add the skewers.
Congrats! Your very first custom cake topper is ready!
Video Tutorial for the Custom Cake Topper
Custom Cake Topper FAQs
Q1) How to make birthday cake toppers sturdy?
If you're not happy with the sturdiness of the cardstock, you can use chipboard instead of cardstock to get a sturdier cake topper. Make sure you do a test cut before you proceed.
Q2) What's the best font for cake toppers made using Cricut?
For the best cake toppers, try using Serif or Sans Serif fonts as they are bolder and will give sturdier cake toppers.
Q3) What material is best to use as a support for cake toppers?
The best way to support the cake toppers is by gluing skewers at the back of the cake toppers.
The End!
With that we have reached the end of the tutorial where I showed you how to make your own custom hand-lettered cake topper even if you do not have an iPad.
If you found this tutorial helpful, make sure you pin it and share it in your fav Facebook group!
If you have any special requests or questions, just drop me a comment below. I'll get back to you ASAP. xx
-Jav the Ninja