In this post, I'm sharing a FREE SVG for a wedding themed lantern that can be made from cardstock paper using any of the Cricut machines. This is a great advanced beginner Cricut project.
Hello Cricut buddies! Welcome to another post at Cut N Make Crafts. Wedding season is in full swing so these couple of days I'll be sharing loads of wedding themed Cricut projects with FREE SVG files so you can make them as gifts for your friends and family.
Talking about weddings, I just remembered I made the BIGGEST blunder of my life.
I forgot to get a gift for my husband on our FIRST ANNIVERSARY. Like OMG! I feel like such a horrible person I swear even though I bought my husband a wallet TWO months after the anniversary. I also made him this card with my magical Cricut Maker which cheered him up but then again, the damage is already done. *wails*
How was your first anniversary? What gifts did you guys/girls exchange? I'm really curious to find out if anyone screwed up as bad as me, so please help me feel better, share your stories in the comments below.
Alright, enough talk. Now let's get started with the wedding themed lantern tutorial which also comes with a FREE SVG file that works with any Cricut machine.
AFFILIATE DISCLOSURE: Cut N Make Crafts is a participant in the Amazon Services LLC Associates Program, an affiliate advertising program designed to provide a means for sites to earn advertising fees by advertising and linking to Amazon.com.
How to Make a Wedding Themed Paper Lantern
Supplies Needed for Wedding Themed Lantern
To make the wedding-themed paper lantern gift with your Cricut, you will need the following supplies.
Cardstock (250/80lb gsm for the base and lighter (70lb) for the overlay)
Scoring wheel (recommended) or can also use a scoring stylus
Free wedding lantern SVG file – (available for the VIPs. Become a VIP by entering your name and address below).
Video Tutorial for Wedding Themed Lantern
Watch the detailed step-by-step video below to learn how to assemble the wedding-themed lantern.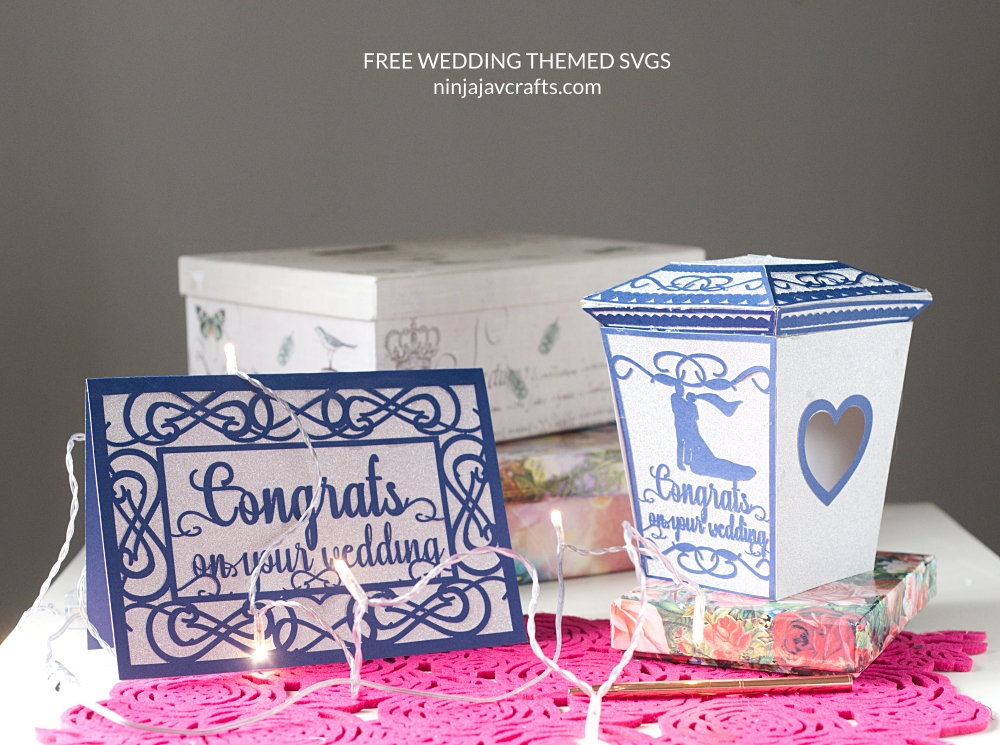 If you're also interested in making the wedding-themed card shown in the photo above, you can check out the tutorial for it by clicking here: FREE Wedding Card SVG File + Tutorial.
It comes with a FREE SVG file as well that can be cut on any of the Cricut machines.
The End!
With that, we have reached the end of the tutorial where I showed you how to make a wedding-themed lantern.
If you found this tutorial helpful, make sure you pin it and share it in your fav Facebook group!
If you have any special requests or questions, just drop me a comment below. I'll get back to you ASAP. xx
-Jav the Ninja
More Beginner Cricut Projects
Don't forget to check out these beginner Cricut projects!