In this post, I'm showing you how to write with Cricut. I'll also share the steps to find the perfect Cricut writing fonts for your projects. We're going to learn how to use the Cricut pen and create a simple mandala card.
Did you know, you can also write and draw with your Cricut? Yep, Cricut is not just designed for cutting, it can write and draw for you as well. Think custom art prints and tags with custom handwritten scripts. Isn't that awesome! Let's get started!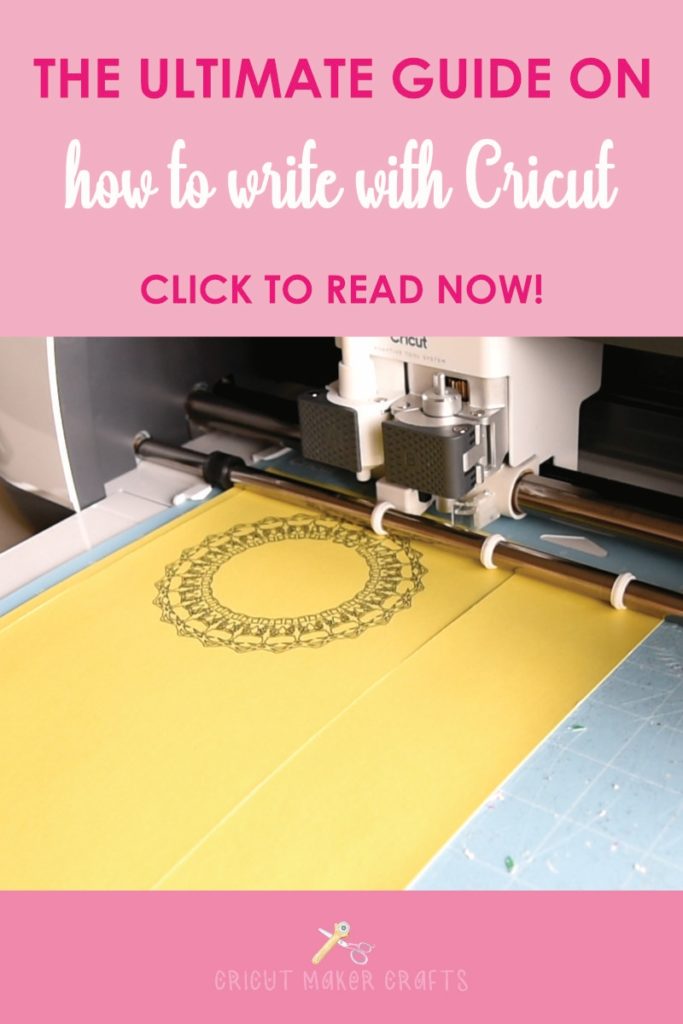 Before we begin, I just wanted to ask you, have you ever had a deal disappear from you right under your nose? Happens a LOT with me on Facebook Marketplace. I swear. Some of the stuff listed are of such AMAZING prices that they disappear within minutes.
Yesterday, I was looking for some Neoflam pans on their website. They're quite pricey so I thought I'd look for a second hand one. That's when I hopped onto marketplace to try out my luck. The chances of finding the pans was extremely low but to my surprise, someone had listed an entire set for A$80 just 12 minutes earlier. Usually, the set retails for about $400. I messaged the person to ask about the location and guess what, by then it was already GONE! *wails*
Have you ever had any such experience? Let me know in the comments below.
Also, we finally finished the whole movie that I told you about in my previous post. The movie made me realize one thing, success is NOT easy. It takes a LOT of hardwork and sleepless nights and not to forget, failures. I reckon, this movie is the reason I got my working mo-jo back.
If you're a creative entrepreneur going through a phase in life, where you have absolutely no motivation to work, I highly recommend watching the movie. Trust me, you're going to LOVE it.
Alright, onto today's tutorial where I'm showing you how to write with your Cricut.
How to Write with Cricut?
The process of writing with Cricut is pretty simple. All you need is a pen, cardstock you'd like to write on and your image or text. One thing to keep in mind is to change the linetype from "draw" to "cut" as this signals your Cricut to draw/write instead of cutting. Here are the steps involved in writing with Cricut.
Step 1: Add Text
First, open up Design Space by going to design.cricut.com and then click on canvas from the menu on the left-hand side.
Once you're on the canvas, click on the "text" option from the left-hand side panel. Once you click on "text", a box will pop up for you to add your text in.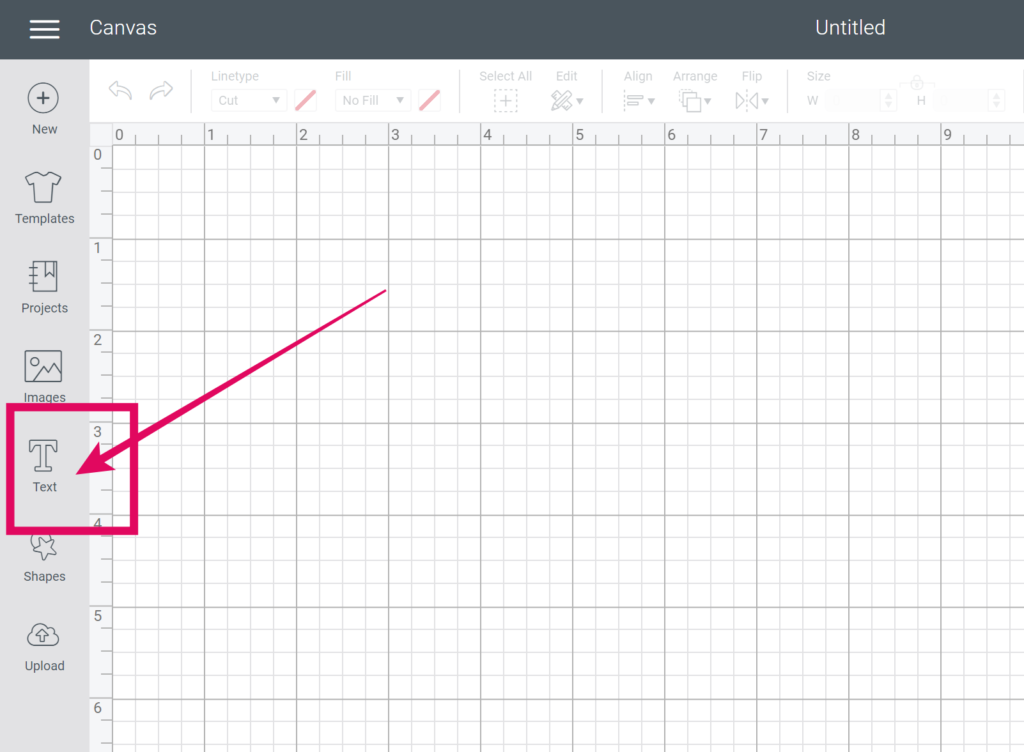 Insert your text in the text box. Use the text editing options from the text edit panel to edit your text. You can reduce the text spacing, make the text curved, change the alignment or the font size as I showed you in the third lesson of Beginner's Cricut Course.
Step 2: Change Linetype
Once you're happy with your text, you can change the "linetype" from "cut" to "draw". This will signal your machine to draw instead of cut so don't forget this essential step.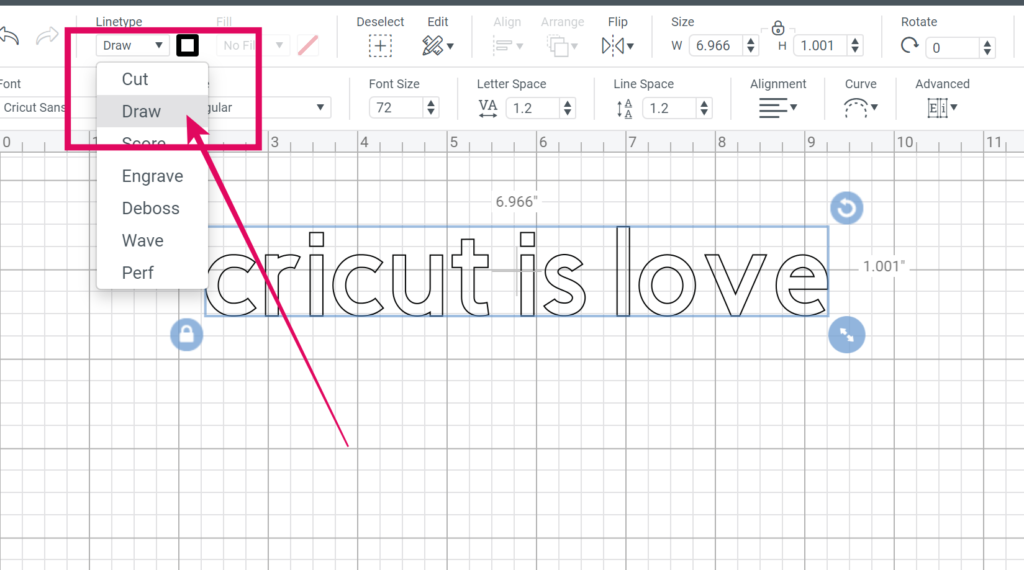 Step 3: Choose Font
Next, it's time to choose the font. Do note that not ALL FONTS are designed for writing. To write, you need to use some special fonts which you can either purchase from Cricut or you can get some of the free ones from the list I shared below.
To use the Cricut fonts, click on "Cricut" from the font menu, next, click on "filter" and then select "writing" from the dropdown menu.

This will give you a complete list of fonts that can write for you instead of creating the outlines for the texts.
Step 4: Choose Pen
Next, go ahead and choose the type of pen that you're working with so Cricut can adapt its settings based on the pen selected. To choose the pen type, click on the colored square right beside "linetype".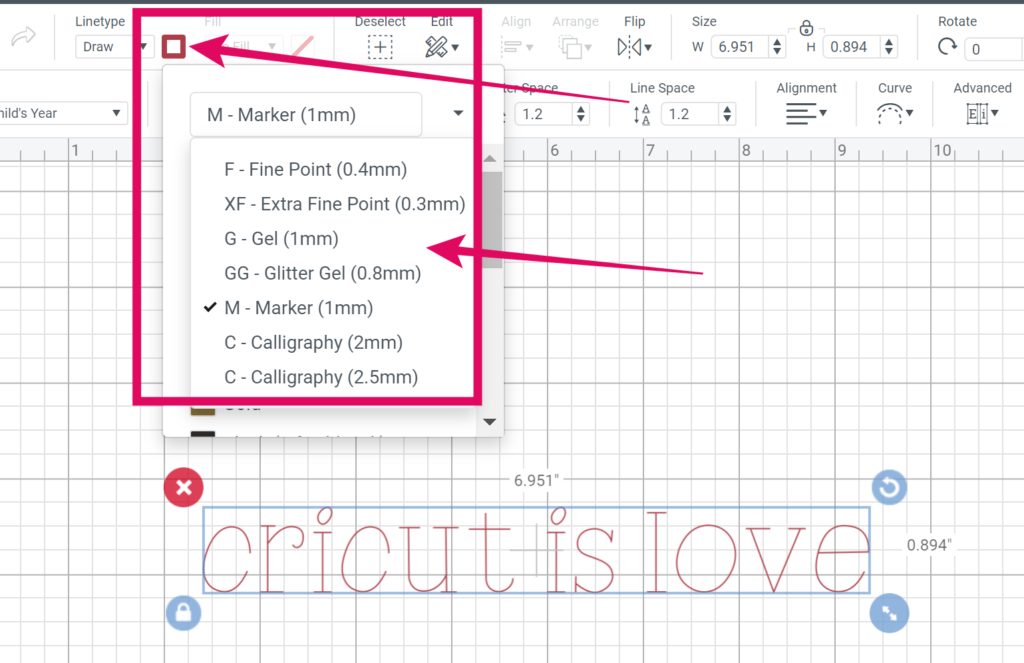 Step 5: Attach and Send to Mat
Once you're happy with the look of your text, you can go ahead and click on 'make it" to send the text to your mat. If you're working with an image and a text like I showed you in the video below, be sure to select everything and click on "attach" at the bottom right-hand side corner. This ensures that everything stays in place when you send it to the mat.
Step 6: Add your pen
Next, insert your pen in Clamp A, designed for accessories. Make sure the pen's arrow is pointing towards you. Push the pen inside until you hear a click and the arrow gets hidden in the clamp. Alright, you're now ready to start writing/drawing with your Cricut!
Where to Use the Writing/Drawing option?
Now, you must be wondering what can you use the writing/drawing option for? What's the purpose of this feature when you can just use your printer to print the image/text instead?
Well, here are some things that you can do with the Cricut draw/write feature which is not possible with a printer.
You can draw/write on larger size papers. Usually, the maximum size a printer can print on is A4 or a letter-size paper. With Cricut, you can draw on a paper that fits on the 12″x24″ mat. That means you can create your own large artwork to hang by using the draw feature. How awesome is that!
You can also use the draw feature to create artwork/write with metallic pens which is certainly not possible with a printer.
Using the draw feature, you can easily create a card and get it cut at the same time without going through the hassle of printing and then cutting. This is something I'll teach you in today's lesson as well
Lastly, you can also use your Cricut to create handmade tags that can be drawn and cut at the same time. This is great if you have a shop as it allows you to create customized tags in a jiffy.
Alright, now that you know the different ways you can make use of the Cricut "draw/write" feature, let's have a look at how to actually draw/write.
AFFILIATE DISCLOSURE: Cut N Make Crafts is a participant in the Amazon Services LLC Associates Program, an affiliate advertising program designed to provide a means for sites to earn advertising fees by advertising and linking to Amazon.com.
Supplies Needed to Write with Cricut
To draw/write with your Cricut, you just need the basic supplies listed here.
Light Grip Cutting Mat

Free SVG file (you can grab this by signing up for the VIP list below).
Video Tutorial: How to Write and Draw with Cricut
Best Cricut Writing Fonts
While trying to write with your Cricut, you must have noticed that the usual fonts turn the texts into bubbles, outlining the texts instead of writing. So, how do you know what fonts will write instead of creating an outline?
One simple method to find fonts that write is by clicking on Cricut under the "fonts" tab and then selecting "writing" from the filter. This will give you a list of fonts designed for writing. Unfortunately, these fonts are not free and cost up to $5.
If you don't want to pay for these fonts, you can download the following fonts which are completely free for PERSONAL USE. If you'd like to use them for business purposes, be sure to purchase the paid version or else you can get sued by the programmer.
Mathanifo Script
Hello Morgan
Organic Fridays
Kinan
Baby Lexi
Slim Extreme
Yesie
Dhanikans Signature
Kaleidescope
Rachela
Flamenco
Pens Perfect for Writing with Cricut
Cricut pens can be quite pricey but the good thing is you don't necessarily have to use them. Here's a list of much affordable pens and markers that you can use with your Cricut.
How to Write with ANY PEN with Cricut
Lucky for us, there's now a special adapter set available on Etsy that will allow you to write with literally any pen you have with your Cricut.
This adapter set works with the Maker, Explore Air 2, and Explore Air but not with Explore One. There are 3 different sets to choose from; a set of 8 adapters, a set of 10 and 13 adapters. The set with 13 adapters comes with adapters for the following pens:
1) Sharpie Fine Point (Regular, Metallic & Neon)
2) Sharpie Ultra Fine Point
3) Sharpie Pen (Stylo and Art)
4) Pilot Precise (V5 & V7)
5) BiC Marking (Fine & Ultra Fine)
6) BiC Cristal
7) Sakura Gelly Roll
8) Amaza Gel Pens
9) Sharpie Oil-Based Paint (fine and extra fine)
10) uni-ball Signo UM-153
11) Fine Line Marker
12) Super Tip
13) Detailing Gel Pen
Click here to check out the adapter set.
Writing with Cricut FAQs
Can I write with pens other than the Cricut brand?
Yes, you can, check the list of pens given above. You can also get the pen adapter that I shared above to work with literally any pen/marker that you have.
Which fonts are the best?
You can find a huge list of fonts in Design Space that are specially made for writing but you would have to purchase them first. However, if you're using the fonts for personal use you can check out the fonts given above that are great for writing.
Can you write full letters or is it just going to be an outline?
Yes, you can write full letters if you select the fonts designed just for writing.
The End
With that, we have reached the end of the post where I shared with you the details on how to write with Cricut. I also talked about the different fonts and pens you can use with Cricut to make your projects stand out even more.
If you're new here, be sure to sign up for the FREE Beginner's Cricut Course here.
Also, check out: 9 Everyday Objects to Use with Cricut