Hello, Cricut buddies! Jav here from Cut N Make Crafts. 
Today I'm sharing 5 epic reasons to create your own SVGs. 
You see, with the introduction of Cricut cutting machines, SVGs have become quite popular in the market for creating all sorts of customized décor and graphics. And the best part is, this is just the beginning because with the booming cutting machine industry the demand for SVGs is only going to get higher by the days.
This means, this is THE BEST TIME to start learning to create your own SVGs, trust me. Here are some golden reasons to get started with SVGs right now!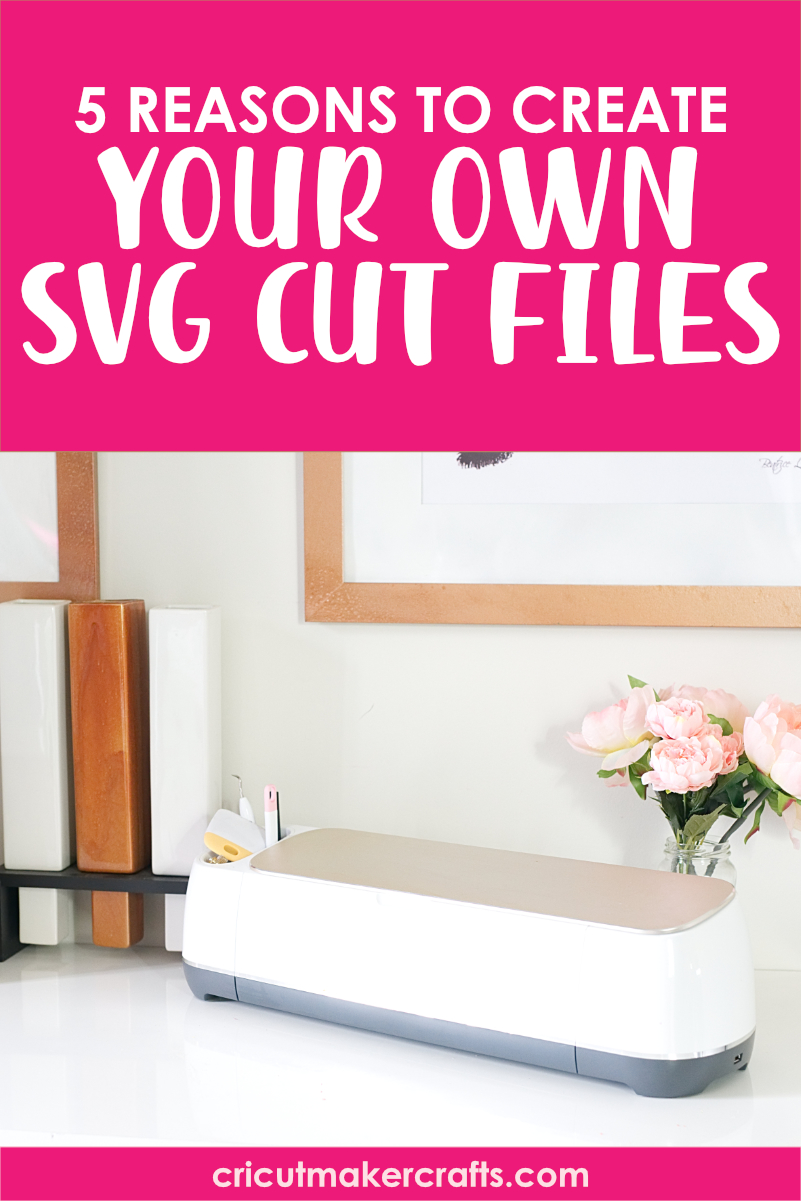 1) You get to save a ton of $$
If you run a custom design/décor business, you NEED to learn to create your own SVGs. By creating your own SVGs, you can save a ton of $$ because you won't have to buy each SVG from other designers.
Also, a lot of designers require you to purchase a commercial license if you plan on selling your crafts which at times can get pretty expensive, so if you have an SVG that you designed yourself, you wouldn't have to purchase the commercial license thus keeping your business expenses low.
2) You have creative freedom
When you learn to create your own SVGs, you open up so many creative possibilities. You can easily design something to match your own style and give your SVGs a unique spin thus standing out from the crowd and eventually bringing in more customers and $$.
If you'd like to learn to create your own SVGs, join the waitlist for my upcoming course SVG ROCKSTAR by entering your name and email below.
3) High demand
The cutting machine industry is expected to generate a revenue of $995 MILLION by 2025 (source). With the boom in the cutting machine industry, the demand for SVGs is also growing sporadically. This means there's a huge potential to earn a chunk load of money by creating SVGs.
4) No copyright issues
When it comes to using digital files, copyright is a huge issue. A lot of designers require you to purchase separate commercial licenses if you want to use their SVGs for business purposes. This can get quite pricey especially if you're just starting out and if you don't follow the copyright rules, you can get into trouble that can cost you thousands of dollars in the form of lawyer and court. Whereas, when you create your own designs, you have peace in mind because you own the designs and you can do whatever you want with them.
5) You can sell these files to earn money in your sleep
Another cool aspect of learning to create your own SVGs is the fact that you can open up a shop to sell your SVGs. This can help bring in income when your physical product shop is in a holiday mode, allowing you to make money literally in your sleep. This is by far my most favorite part about creating and selling digital products. I've lived off of my digital product income throughout my college years and even now. Thanks to my digital products, I was able to earn an income during my exams, without having to worry about shipping and customer orders.
So these were the 5 awesome reasons you need to start creating your own SVGs right now.
If you'd like to learn more about creating your own SVGs to use with your Cricut, I have a piece of amazing news for you.
I'm currently working on an SVG design course where you can learn EVERYTHING about creating your own SVGs. To stay updated and get an early bird price, make sure you join the VIP waitlist below.