In this post, I'm sharing how to make a Unicorn Crown with Cricut flowers and felt. This Unicorn Crown is fairly easy to make and comes with FREE SVG files so you can create your own Unicorn Crown with Cricut at a minimal cost.
FTC DISCLOSURE – This post contains affiliate links and I received compensation for this post.
Hello, Cricut Buddies! Welcome to Cut N Make Crafts! In this post, I'm sharing how to make your own Unicorn Crown that will be great for birthday parties, bridal showers or just for some photo-shoot fun.
Want to know how I'll be using my Unicorn Crown?
Well, I'll be using my Unicorn Crown for two things.
1st I'll make my husband wear it for HIS birthday party. Shhh! Don't tell him.
I'm actually planning to get him back by throwing him a Unicorn birthday party because he did something a few days back which really pissed me off. So, now it's time for revenge! *evil grin*
The other thing I'll be using the Unicorn crown is for my brand photoshoot so I'll be like a Pink Unicorn Ninja. 😀
Okay, let's get started!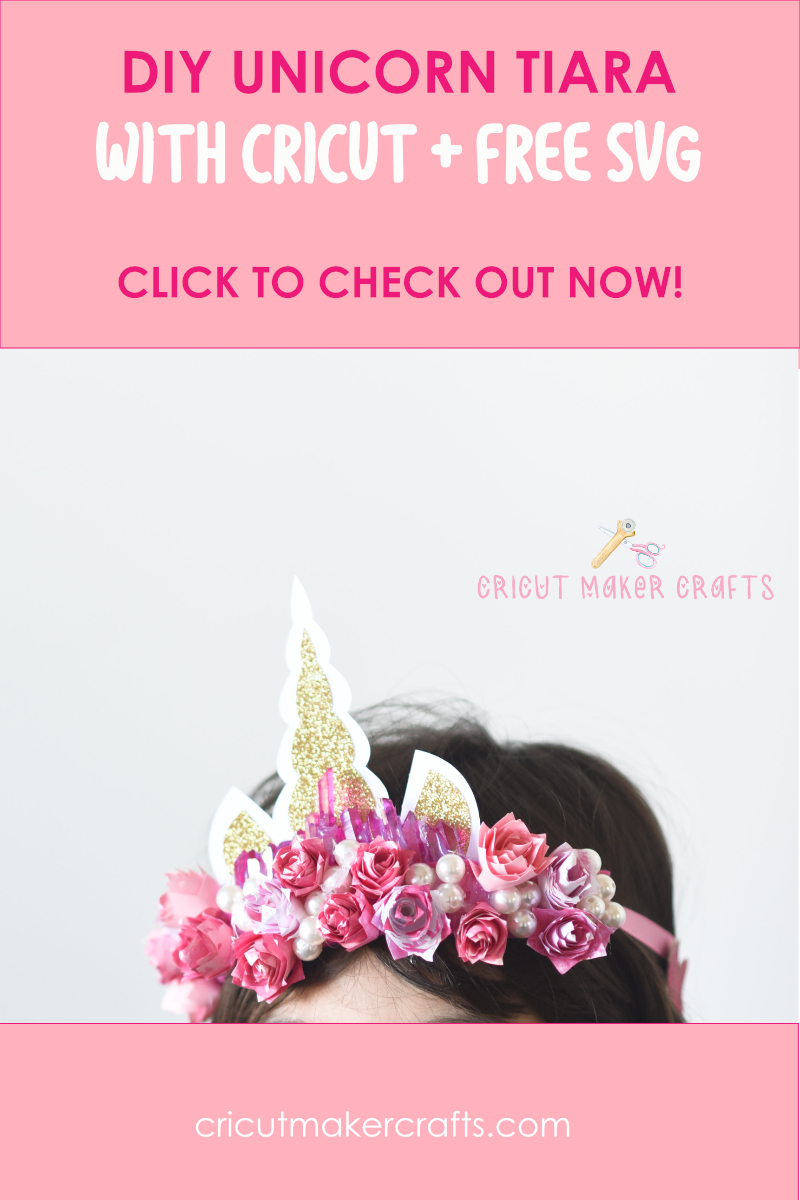 How to Make a Unicorn Crown with Cricut
Let's get started with the Unicorn Crown tutorial using Cricut Maker. But first, here's some important Affiliate info.
AFFILIATE DISCLOSURE: Cut N Make Crafts is a participant in the Amazon Services LLC Associates Program, an affiliate advertising program designed to provide a means for sites to earn advertising fees by advertising and linking to Amazon.com.
Techniques Covered in Unicorn Crown Tutorial
In this tutorial you will learn the following important techniques:
How to cut paper flowers using Cricut
How to cut felt using Cricut
Now, let's look at the list of supplies.
Supplies needed for Unicorn Crown Tutorial
Step-by-step Tutorial for Making Your Own Unicorn Crown
Here's a summary of the steps involved in making your own Unicorn Crown with Cricut paper flowers.
Cut out the paper flowers and Unicorn horn and ears using your Cricut.
Make the base by adding the pearls and crystals to the wire
Make the paper flowers that you cut using Cricut
Attach the flowers to the base.
Attach the Unicorn horns and ears to the base
More Helpful Cricut Posts
With that, we have reached the end of this tutorial where I showed you how to make a Unicorn crown with flowers with FREE rolled paper flower SVG cut files.
Before you go, check out these amazing Cricut posts!
Don't forget to save this project on your board for later by clicking on the "save" button!