In this post, I'm sharing a list of must-have supplies for Cricut beginners. Included in the list are Cricut tools, vinyl, and blades that you need to purchase with your Cricut so you can get started with crafting with your Cricut.
Hello, Cricut buddies! Welcome to Cut N Make Crafts (not affiliated with the Official Cricut).
As I am writing this post, I can hear my dishwasher making this weird sound but I'm not sure if I should stop the machine or let it just run. 
Okay, the sound was getting too annoying so I just took out the culprit from inside. Guess what was causing the sound! The stockpot! Gah! Now, I'd have to wash it by hand.
Alright, onto today's post.
I've created this list of supplies in conjunction with the Beginner's Cricut Course that you can sign up for here.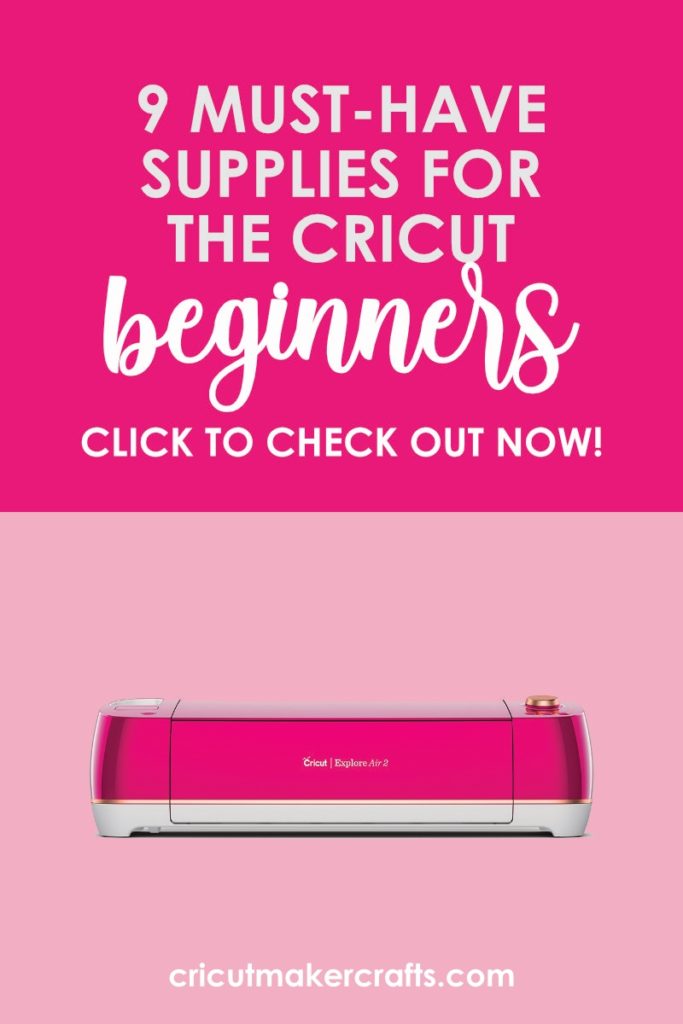 List of Must-Have Supplies for Cricut Beginners
AFFILIATE DISCLOSURE: Cut N Make Crafts is a participant in the Amazon Services LLC Associates Program, an affiliate advertising program designed to provide a means for sites to earn advertising fees by advertising and linking to Amazon.com.
1. Cardstock
Almost all the papercrafts on Cricut require cardstock so I'd highly suggest getting one set of cardstock for the starter so you can create multiple projects using a variety of colors. You'd need cardstock to create cards, flowers or any other 3D papercrafts.
If you're shopping from the Cricut website, you can THESE CARDSTOCKS.
However, if you're shopping from Amazon THIS CARDSTOCK pack would be the best to get.
2. Vinyl Bundle
A vinyl bundle is great for beginners as it allows you to test and practice different projects in a variety of colors. I, myself purchased a bundle of 15 different vinyl which includes both iron-on and adhesive vinyl.
There are two main categories of vinyl; iron-on and adhesive. Iron-on or heat transfer vinyl is designed for fabrics or soft surfaces and can be further categorized into the mesh, holographic, glitter, foil, patterned, SportFlex (for stretchy materials), and mosaic. For now, I'd suggest getting the basic everyday vinyl to play around.
Adhesive vinyl, on the other hand, is used for hard surfaces like glass and plastic. Adhesive vinyl is of two different types; permanent and removable. I'd suggest getting the removable bundle as it allows you to easily remove the vinyl if you make any mistakes.
| | |
| --- | --- |
| Iron-on Vinyl (Heat Transfer Vinyl) | Adhesive Vinyl |
| Everyday | Basic |
| Mesh | Premium |
| Mosaic | Specialty |
| Glitter | Patterned |
| Foil | Adhesive Foil |
| Patterened | |
| SportFlex (for stretchy materials) | |
| Holographic | |
You can use the vinyl bundle to create custom t-shirt graphics, shadow boxes or to add a quote to wine glasses. The sky is the limit!
You can either get the Cricut vinyl or you can get other brand vinyl like Siser and Oracal.
Click the links below to order your vinyl bundle pack:
CLICK HERE for Cricut Everyday Iron-on Vinyl Bundle
CLICK HERE for Cricut Basic Adhesive Removeable Vinyl Bundle
CLICK HERE for Iron-on Vinyl Bundle
CLICK HERE for Adhesive Vinyl Pack
3. Basic Tool Set
The Cricut Basic Toolset is EXTREMELY important to get as well. It was so hard for me to work without them because I couldn't get the stuff off the mat using the spatula or get rid of the gunk using the scraper tool.
The Basic Tool Set comes with 5 different tools to make crafting with Cricut easier. This set includes a spatula, a weeder tool, a scraper, a pair of microtip scissors, and a tweezer. Each of these tools has its own special function. To read about all these tools in detail, check out the post: Ultimate Beginner's Guide to Cricut Tools
Click the links below to get your Essential Tools Set.
4. All the Mats
There are four different types of Cricut mats and each of these mats are used for different materials. The mats come in four different colors so it's easy to differentiate one category of the mat from others. Here's a quick look at what each mat is used for:
To read more details about the mats, check out my post: Ultimate Guide to Cricut Mats for Beginners
As a beginner, it's best to get all the mats so you can experiment with different projects. One mat that you CAN leave out is the FabricGrip mat if you're 100% sure you will not be doing any sewing projects.
To get the mats from Cricut, CLICK HERE.
To get the mats from Amazon, CLICK HERE.
5. Blades
Cricut has in total SIX different types of blades but the good thing is, you don't need them all if you're JUST starting out. As a beginner, who just wants to do vinyl and papercrafts you're good with just the premium fine point blade that comes with your Cricut.
If you'd like to cut fabrics, you don't have to worry about anything either because the Cricut Maker comes with the rotary blade that can be used right off the bat.
However, if you're still interested in doing other projects, you can get other blades as well. Check out my post: A Complete Guide to Cricut Blades for Beginners to read in detail about all the blades. This will help you in deciding which blades are the best for you.
6. Pens
The Cricut Maker and Explore Air (1&2) can write and draw as well besides cutting. If you'd like to use your Cricut to create handmade tags and labels, I'd suggest getting different colored pens so you can try out this fun feature too. You can learn all about writing/drawing with Cricut in this post: How to Write with Cricut.
Here's a list of pens that you can get which are compatible with both Cricut Maker and Cricut Explore.
7. Glue Tape
Glue tape is one extremely essential tool that you would find quite handy for all sorts of papercrafts such as cards, cake toppers, banners, and scrapbooking. They are quite handy to work with as they don't make your project all gooey and sticky and if you make a mistake, you can easily remove the material and re-apply the tape.
It's best to have a set of glue tape by your side as it makes paper crafting easier. Click here to check out the glue tapes on Amazon.
The End!
With that, we have reached the end of the post where I shared a list of must-have supplies for beginner Cricut crafters. Go ahead and order these supplies before you get started with your Beginner's Cricut Course so you can follow along and complete each of the lessons as we get to them.
Lastly, don't forget to pin this post for later.