In this post you will find 19 easy and quick Cricut Projects with Cardstock. These Cricut paper craft ideas are super affordable and can be made with any type of cardstock which can be easily cut on both the Cricut Explore and Cricut Maker. Included in the list are Cricut cardstock flowers and Cricut card projects.
Hello, Cricut buddies! Welcome back to Cut N Make Crafts by Jav
Today's post "19 Cricut Projects with Cardstock" is contributed by Sumayyah from Craft Your Memories.
I'm Sumayyah and I share party and home decor crafts @CraftYourMemoriess on Instagram. Today I will be sharing 19 Cricut projects that can be created with cardstock.
Aside from the typical greeting cards and party banners that you immediately think of when you picture cardstock crafts, there are so many unique ways that it can be used, especially with different weights.
In this post, I'll introduce you to some amazing ones! Best of all, most of these come with FREE SVG cut files that make the whole process even faster!
Let's get started!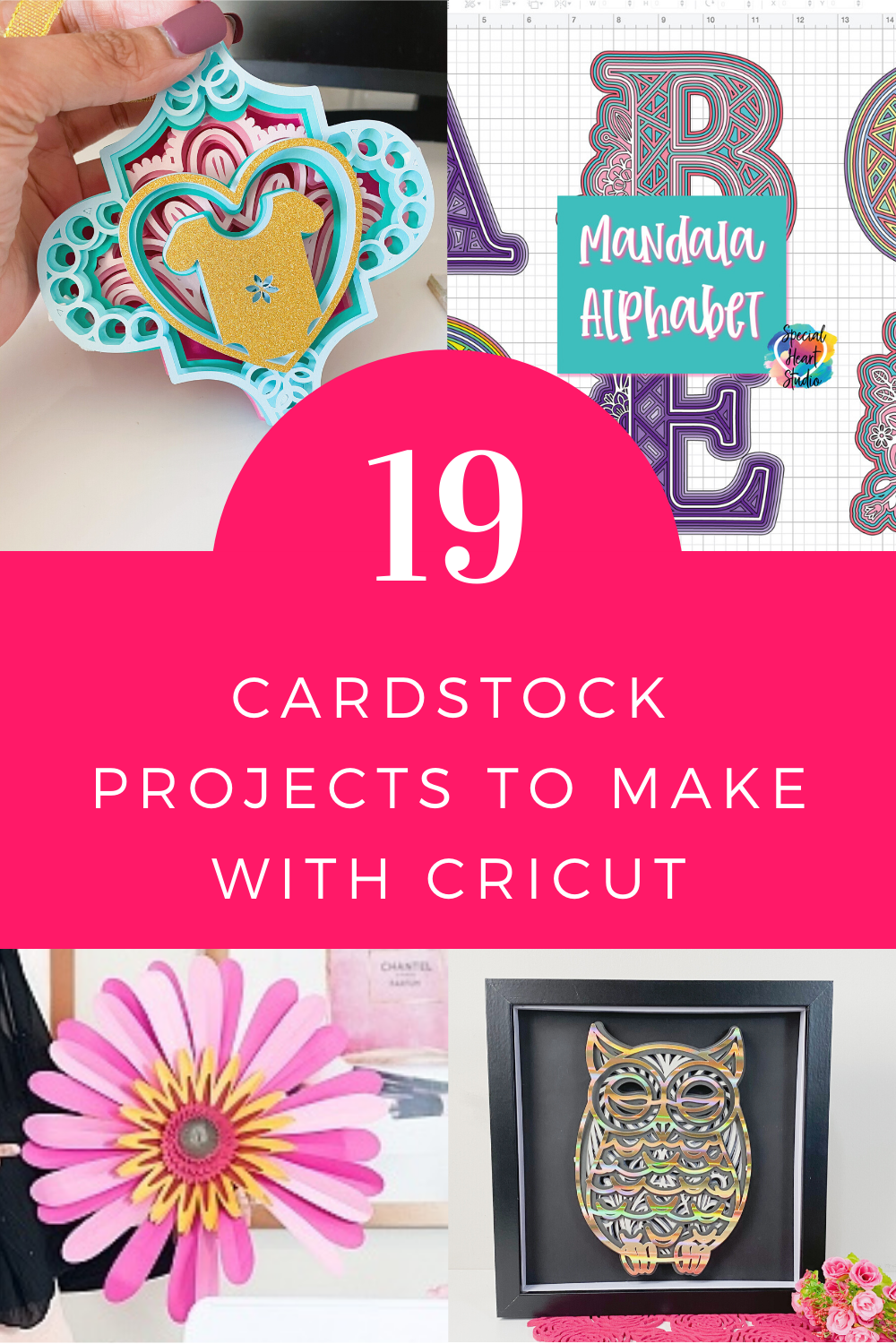 One of the best ways to use cardstock is to create rolled paper flowers. These can be used on banners, cards, frames, and practically anything else to give a nice cute look. I've even seen them being used on business cards!
Speaking of flowers, this enormous paper daisy craft is perfect if you're a flower lover or would like to add pizazz to your craft room. These giant flowers are also perfect to hang in a nursery alongside your child's name and other home decor pieces.
Have you seen the latest trendy cake toppers and wanted to join in but don't know where to start? This tutorial gives you all the steps necessary to create your own custom cake topper, and it even comes with a video!
MAKE THESE 3D ARTWORK PROJECTS WITH CRICUT AND MY 3D SVG CUT FILES! CLICK HERE TO GET THE CUT FILES!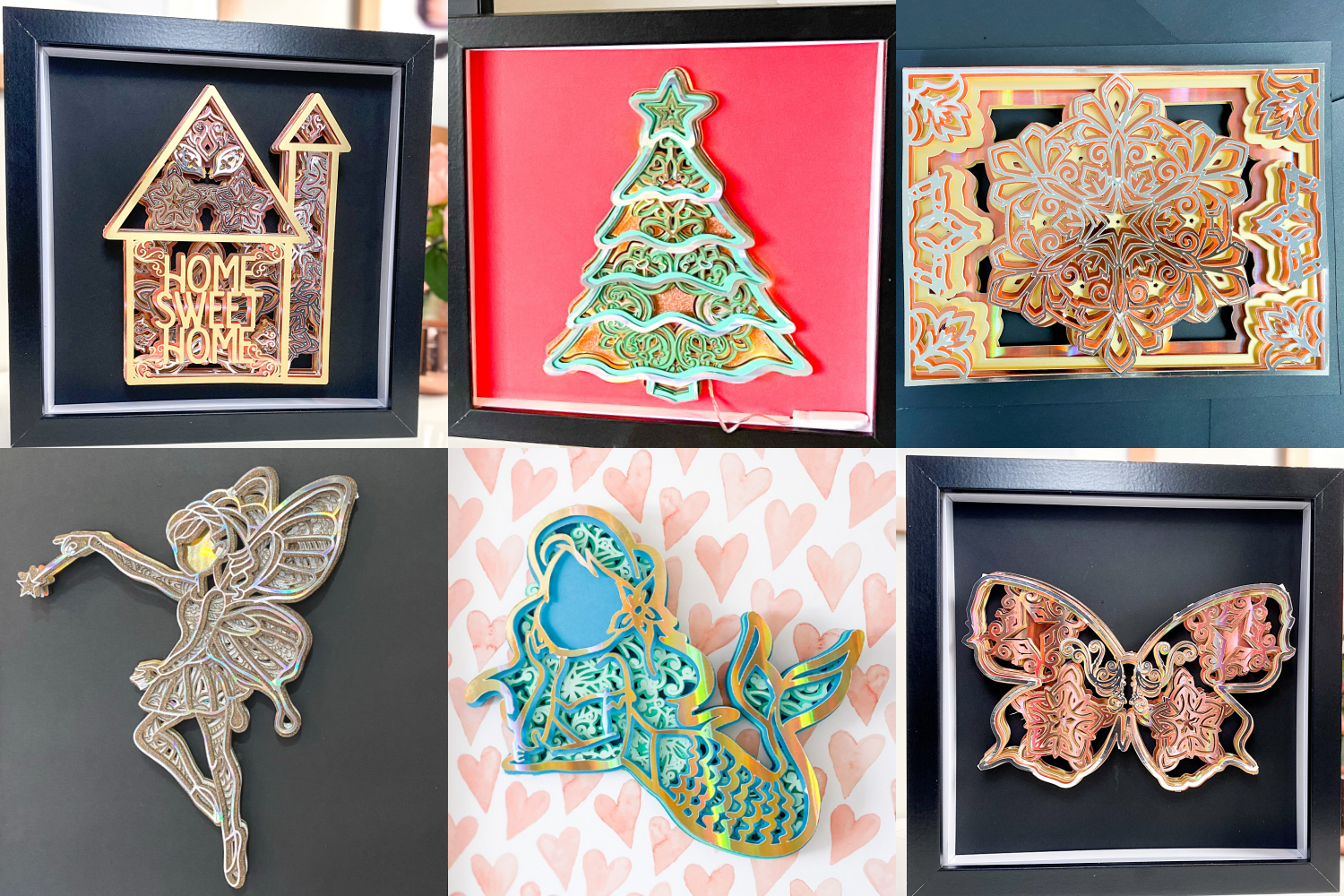 This cute piece is the perfect addition to your side table during the fall season. What better time to make it than now since winter will be arriving soon!
Are you a unicorn lover? Or do you know anyone who is? This adorable craft is perfect for occasions, such as baby showers and birthdays.
This cute craft is great to make with kids. All you have to do is cut out the FREE SVG with your Cricut machine, and you're ready to go.
If you're on this blog, you must have seen the insanely beautiful layered art Jav (the owner of Cut N Make Crafts) creates. This is one of the pieces and you can have it in your own home by accessing the free SVG cut file! I love these pieces because they're gorgeous.
Another great cardstock project is to make your own cards. There are a ton of cards to make on Cricut Design Space, but why not try this one first! You receive a free SVG, so all you have to do is upload it onto Cricut Design Space and then cut it out!
I know it's Fall, but I'm missing the summer weather! This paper flower wreath really reminds me of spring. Luckily, you can use different colour cardstock, such as warm tones to customize this flower wreath for the Fall.
Let's get into garlands/banners. I love creating personalized banners, and this is a very cute one that is perfect for summer.
I'm loving this mandala trend! Here is another beautiful layered art piece that comes with your very own SVG file. This owl is very suitable for the fall time, but I can also picture it being used for winter with all cool tone colours!
This is the craze nowadays! You can spell out your name, an occasion, and much more with these 3D letters. This post also comes with a video tutorial to make it easy to understand the procedure.
Maybe you're interested in mandala art but would like a more neutral piece. This set of letters is a great way to craft your interest and hang up and frame it as a beautiful decor piece.
Do you know of someone graduating next year or in the near future? This card is great for those occasions. Also, this is a beginner-friendly craft that can be easily made on your Cricut machine.
This bookmark is great to get in the spirit of Halloween. You can also use it year time around if your child is into monster games!
What about this cute unicorn bookmark, perfect for you or your little girls.
Another great craft are these cute paper rosettes. If you have a Cricut Maker, these babies take under 15 minutes!
This beautiful farmhouse paper swag decor is beautiful for those outdoor events. It can be used on chairs, ladders, or anything else.
Last but definitely not least, this uber-cute gift cardholder. This specific one is for a coffee cup, which is great to give as a gift to all those coffee lovers!
And there you have it; here are 19 projects that are made with cardstock. I hope you enjoy making them! Make sure to save this post to your Pinterest board to make some of these later.