In this post, I'm sharing a FREE layered SVG file for perfect for creating a 3D layered art for home along with secrets to make the best-layered art with clean cuts. I've also covered the type of cardstock I use for creating layered arts using SVG designs from my store.
Get the FREE Layered SVG File Below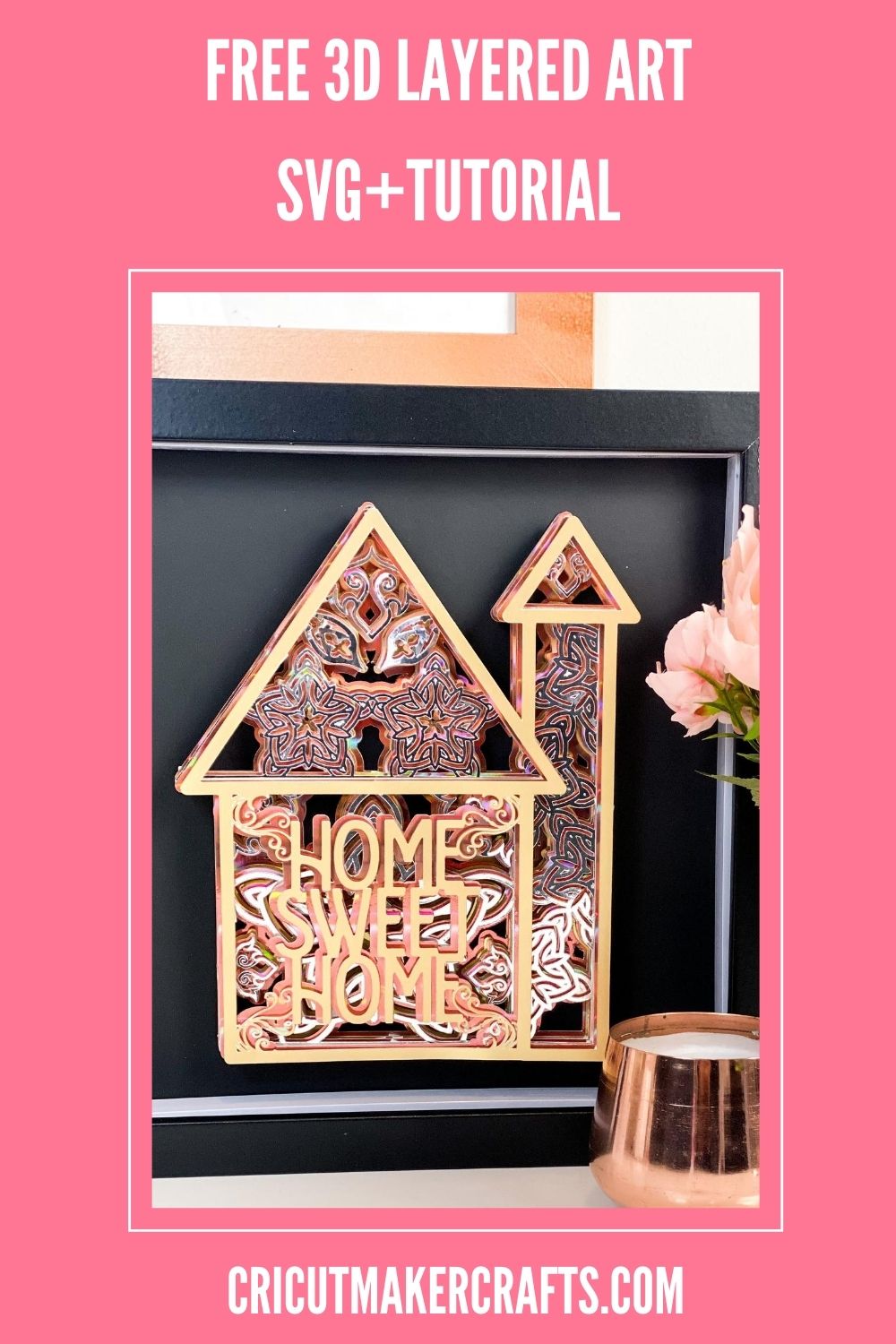 Hello, Cricut buddies! I'm Jav from Cut N Make Crafts. Today I'm sharing a super cool FREE layered art SVG file from my latest SVG collection that I just launched in my Etsy store.
This FREE layered art SVG is perfect for creating a gorgeous home decor wall art or you can also create it as a gift for your loved ones.
In this post, I've covered the supplies needed for creating awesome 3D layered art with paid or free layered art SVG files along with eight of my personal tips for creating the perfect layered art. These are the tips I discovered after cutting out a ton of layered SVG files while I was testing my designs for my Etsy store.
AFFILIATE DISCLOSURE: Cut N Make Crafts is a participant in the Amazon Services LLC Associates Program, an affiliate advertising program designed to provide a means for sites to earn advertising fees by advertising and linking to Amazon.com.
Supplies Needed for DIY 3D Layered Art
Heavyweight cardstock

(the color of cardstock that you choose for creating your 3D layered artwork is totally up to you. I've noticed I get the best results when I use a transition of colors starting from the darkest to the lightest or vice versa. For my designs, I mostly use mirrored, metallic and holographic cardstock. I've listed the different places you can purchase these cardstocks for your layered art below).
Cricut Fine Point Blade

(most of the layered art designs have layers with very intricate details. The secret to cut these layers perfectly without any mess is to use a separate blade for the intricate layers with the "cardstock for intricate cuts" settings enabled).

Foam squares (these are perfect for adding a raised effect to the 3D art. I used 4mm foam squares as they are really small and are barely visible to the eye. I bought mine in bulk from eBay).
FREE Layered SVG File "Home Sweet Home" (available for the VIPs, become a VIP member by entering your name and address below)
Get the FREE Layered SVG File Below
Enter your name and address below to access the FREE VIP library and get the FREE layered SVG file for "Home Sweet Home" art.
Places to Purchase Mirror/Metallic Cardstock
Secrets for Creating Perfect Layered Art
Use heavyweight cardstock instead of the lighter ones as the heavy cardstock is sturdy and stays stiff without having to glue together a million different layers. This saves up a ton of time and gives a really beautiful look to the art.
When cutting out detailed designs, use "cardstock for the intricate cut" settings as this tells the machine to be gentle and cut with lesser pressure thus preventing rips giving clean and beautiful cuts. I usually use this setting for cutting the topmost layers of my layered SVG files.
Keep a separate blade for intricate cuts as paper usually makes the blades dull which can cause issues when cutting out intricate designs.
Always start by cutting the intricate design first. Before cutting the design make sure your machine has rested an hour because cutting intricate designs takes a lot of time which puts stress on the machine. Once, while cutting out the intricate design one after the other, my machine got extremely hot and stopped working while cutting. I had to unplug it and leave it for a day to cool down so I could use it again.
Always use a sticky mat, if your mat is not sticky enough, wash your mat with some dishwashing liquid. Another way to make the mats sticky is by spraying adhesive spray or using Zig Glue.
Make sure the design is not less than 7". This is extremely IMPORTANT. If you're planning to make something smaller, leave out the intricate layers because it's too small for the machine to cut and will not come out perfect.
When choosing the colors, it's best to create an ombre effect by going from dark to light or light to dark.
To ensure the cut stays intact while removing it from the mat, roll the mat and use the scraper to gently remove the cut.
Video Tutorial for the Layered Art
50% Off Amazing Layered Art Designs in My Store
I've just released a huge set of SVG cut files for layered art designs in my Etsy store. In this set, you'll find layered art designs for a Unicorn, Cricut, Butterfly, and so much more. CLICK HERE TO CHECK OUT THE DESIGNS. All designs are 50% off until Sunday 8/16/2020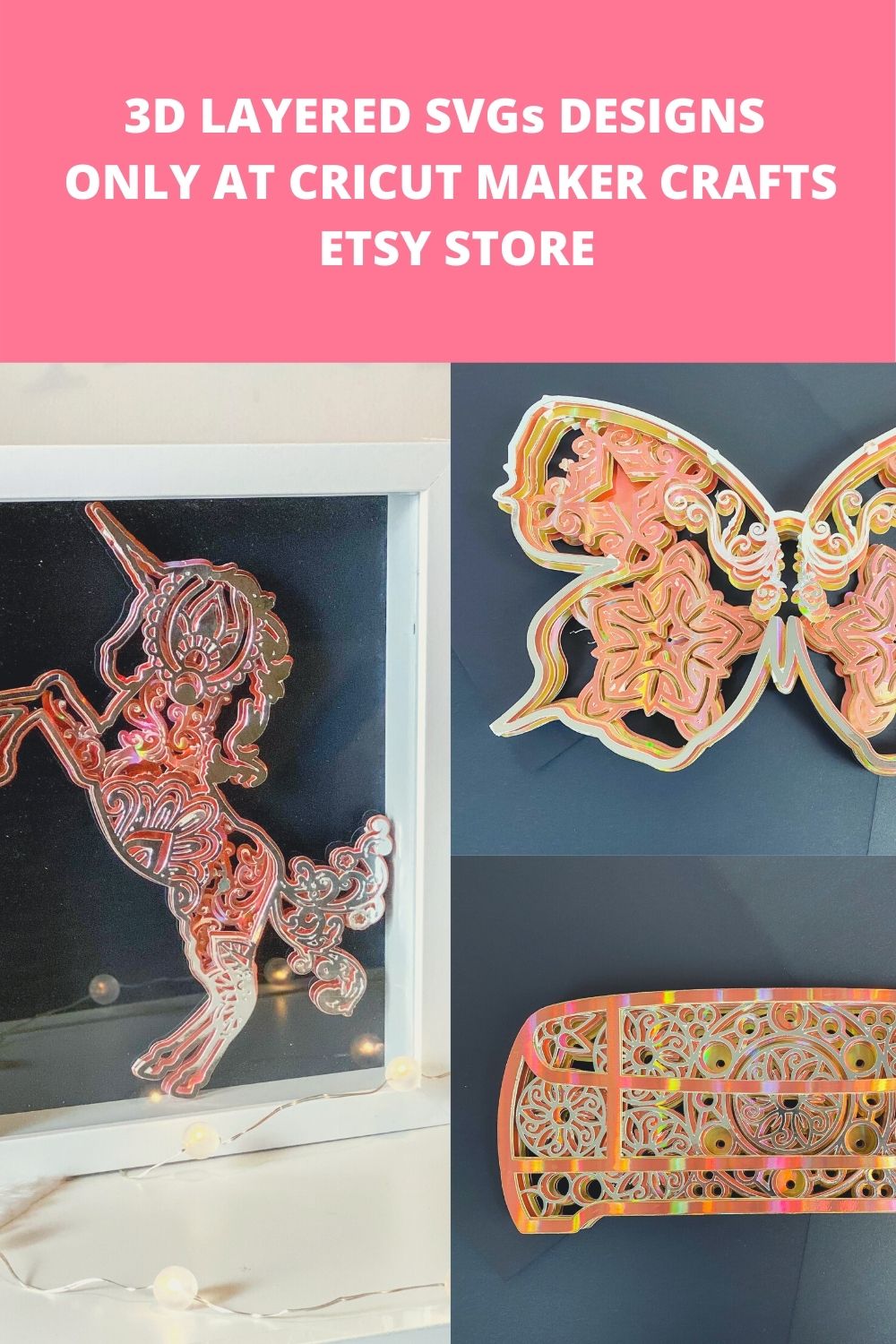 Get the Multi-Layered Home Sweet Home SVG Below
More Cricut Projects to Try
Want more Cricut project inspiration? Check out these posts!
Save this Project on Pinterest for Later