In this post, I'm sharing some super cute Free Cricut Card Projects that you can easily create using your Cricut machine. In fact, creating cards with your Cricut is a simple and easy way to give that homemade feeling without a ton of work!
One important aspect to keep in mind when you're looking for Cricut images and files to make a card out of is that you can use different images and make them into different sizes on your Circuit. That way, even though you found an SVG file that isn't specifically for a card, you can transform it into one with ease!
Let's look at some super fun Free Cricut Card Projects.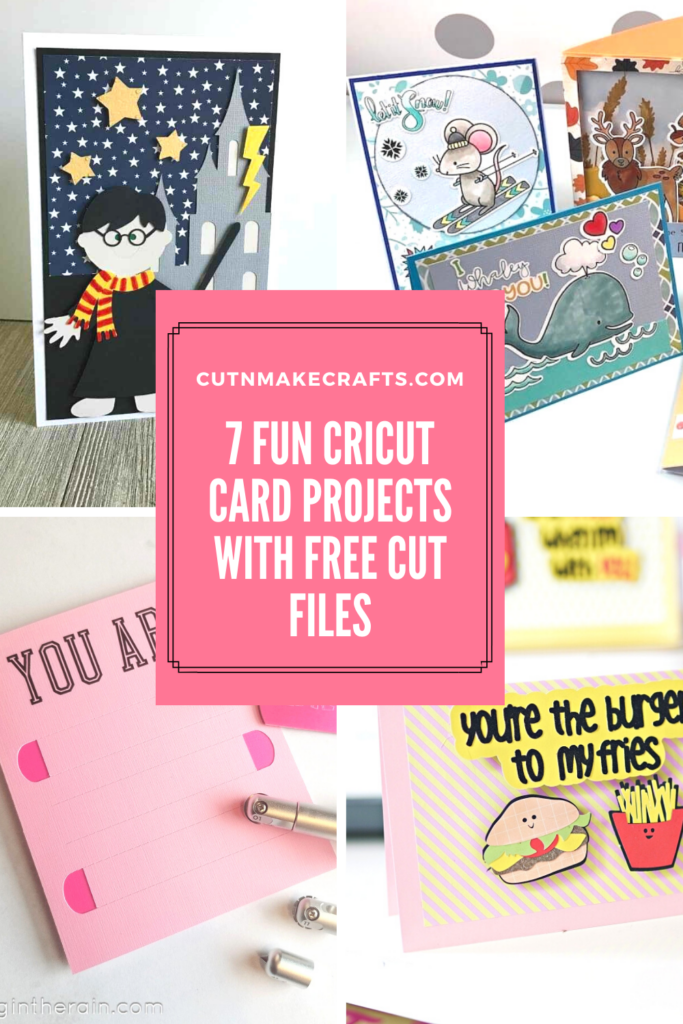 Shaker cards are so fun to make and are currently extremely popular in the craft world. This trend was started by one of my SVG design course students and since then has been going around like wildfire. Why not? These shaker cards made from Cricut look so unique and fun and bring joy to the creator and the receiver.
If you'd like to give someone a card with a surprise message you need to check out this free Cricut card project. You will learn how to use the Cricut perforation blade to create a card with a surprise message. It's super fun to make with your Cricut Maker.
Cricut Joy is perfect for making cards because it comes with the Cricut Joy card making mat. You can also use the pre-made card templated for this project. In  How to Make Cards with Cricut Joy I show you step-by-step how to use Cricut Joy to easily make customized cards that also look gorgeous.
Another way to make cool cards with Cricut is by using the Print and Cut feature. This post shows you how to utilize the feature to make some really adorable print and cut cards. You will also get free templates to make this card.
These cards are fun to make for the love of your life especially if they love food. Comes with step-by-step tutorial as well.
This is the perfect card to make for all Potter heads out there. 
This is the last one of the Free Cricut Card Projects which comes with a FREE SVG cut file and tips on cutting intricate cuts with your Cricut. This FREE card template can be used to make a really chic layered graduation card for the graduates in your life.
With that, we have reached the end of this post where I shared 7 Free Cricut Card Projects for you to check out.
Don't forget to save this for later!
If you liked this post, please save it for later on your Pinterest board!
More Cricut Crafts to Try