In this post, you will find 99 ideas for DIY ornaments. The list consists of Cricut wooden ornaments, Cricut 3d Christmas ornaments, Cricut paper Christmas ornaments, Cricut felt ornaments, Cricut glitter Christmas ornament, and you will also learn how to make picture ornaments with Cricut.
Hi Cricuters and welcome to Cut N Make Crafts! I'm Sumayyah (contributor at Cut N Make Crafts) from @CraftYourMemoriess on Instagram. In this post, I will be sharing 99 ideas for DIY ornaments that can be made with Cricut machines (and some without). With Christmas around the corner, these ornaments are perfect for the occasion (and are great gifts for other holidays as well.) Some of these come with FREE SVG cut files, which makes it even easier!
Let's get started!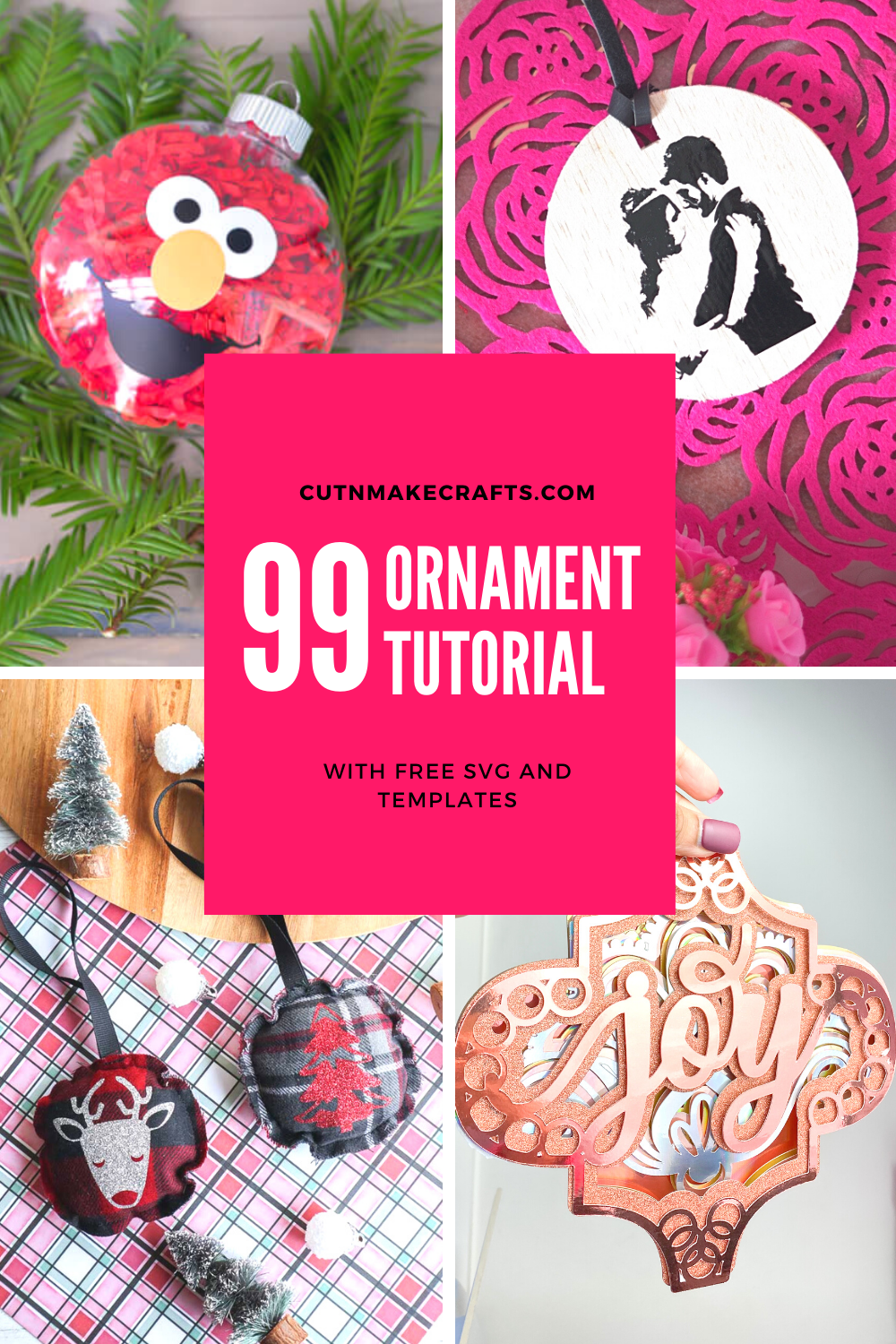 Before we proceed, click the image to check out this 3D ornamnet SVG!
This is a great Cricut Joy vinyl project and pretty simple for beginners! Bonus points go to the FREE SVG included! 
These cute ornaments do need a bit of sewing but are totally worth it! With the free SVG cut file, you can easily cut out the file with a Cricut Maker and you're all set to add cuteness to your home decor.
What a cute, simple, and most importantly eco-friendly vinyl project! It is a great project for beginners and even for those with a Cricut Joy. You can find the free SVG file available in the VIP library. 
This Cricut paper/cardstock ornament tutorial is great for anyone who is running out of time to order wood or glass ornaments. What makes this project even better is the SVG file available!
This Balsa wood tutorial uses vinyl to create a cute ornament perfect not only for the holidays but also for other occasions. I would even make this and gift it! 
I think this is a great project for children to participate in as well. Only a few materials are used, and it's a great way to get them involved. You can find the SVG cut file once you subscribe to the library!
I am loving how these https://www.clarkscondensed.com/diy/diy-let-it-snow-ornament/ornaments look! They remind me of huge versions of those little peppermint candies (which I actually didn't like when I was young). With glitter inside the ornament, you won't have a glittery mess, but it will still look amazing! 
If you have an easy press, this is the project for you! Not only is this a great memory maker and keeper, but also a very exciting process to do, by seeing your vision come to life. 
This tutorial is based on Christmas, but it's also great to use as regular home decor. The faux suede gives it that extra touch of regal-ness. 
Another wooden ornament tutorial! I'm loving this wood trend that has been going around recently. This is a simple and easy Cricut tutorial that can be customized as you like. 
These bright coloured ornaments are bold, and great to complete a retro Christmas theme. 
Are you a Sesame Street lover? This is the perfect ornament craft for you. Another kid-friendly ornament craft that is great to get them involved. 
This is a perfect gift for a cold winter day! I would love to make and receive one of these. Once the cocoa has been used up, you can wash it out and use it as a regular ornament.
These felt ornaments are quick and simple to make. All you need is your Cricut Maker, the medallion file available on Design Space, and some sewing supplies.  
How cute is this ornament! It is also made with felt and the Cricut Maker but is definitely worth the time and effort. 
Looking for a quick and easy ornament tutorial? This one comes with a free SVG file for personal use but is great for a quick fix. 
Are these cute or what? I'm a glitter lover all the way, and these make a perfect gift for teachers before the winter holidays. 
All you need for this project is a Cricut machine and vinyl! You can use any type of ornament, including glass, wood, etc. 
You can use any type of shape in this tutorial, but I think a winter theme is adorable! The small embellishments that you can overlay on the felt make these ornaments even cuter. 
This is the type of ornament for me (a glitter lover). Quick and easy, and with an inexpensive material cost. 
This ornament tutorial is awesome if you have a lot of fabric scraps left around. A video tutorial is also included for ease. You don't even need a Cricut machine for this one. 
Not only are these ornaments faux leather, but if it has a wood grain pattern on it, you'll definitely get that rustic vibe. 
I think everyone needs at least one glitter ornament. If you think the same, this tutorial breaks down exactly how to do so, along with showing how to create the grinch ornament of your dreams! 
Another unique way to create ornaments with slabs of wood! Perfect for putting between branches of your tree, or even around your home for a piece of decor. 
What a cute and great cardstock craft! Great in a quick pinch. This link not only leads you to receive the free SVG cut file, but there is also a video tutorial linked. 
If you are your child is a Star Wars lover, you need to make these! 
All you need for this is an Easy Press or an iron. You don't need any sewing skills, but what a cute end result you do get indeed. 
Who wants another free SVG? I know I sure do! This link not only gives access to the free SVG file but also links to the tutorial and assembly process. 
With the template provided, this tutorial is quick and easy to make. It is a wonderful way to give small gifts to others as well. 
If you are able to purchase flat glass ornaments, these make a beautiful piece of decor for your home. 
Looking for a budget-friendly ornament craft? This is the one for you. 
Although the vinyl is not cut with a Cricut machine, this tutorial gives all the tips and tricks on how to create a beautiful looking ornament. 
With this tutorial, you can use your child's photo and make a keepsake ornament that can be cherished all year round. 
These classy ornaments are everything. If you don't know what or who Rae Dunn is, she is an artist who designed a line of dishes with simple, skinny, black lettering. When you see them, you'll see what I mean! 
You will need either a Cricut Maker or just some handy dandy scissors for this one. It comes with a free SVG too! 
Are you still learning how to use all the features Design Space has to offer? This tutorial not only teaches you how to contour (an amazing tool), but also how to achieve the end result of a beautiful wooden ornament! 
These rustic mini pallet ornaments are cute and perfect for the Christmas season. 
Here is another deer ornament! You can use this trick for all types of silhouettes. 
I really love this website because not only do you receive the SVG (either free or for a small fee) but you also get a video tutorial and instructions! 
Are you team glass or wooden? If you're on the latter, here is another wood slice ornament tutorial for you. Winter edition! 
This is pretty cool! I never realized you could use shrink plastic for ornaments, and these turned out beautiful!. 
A great gift for anyone and a wonderful keepsake for even yourself. 
Calling all Harry Potter lovers! This is a must-have for you.
These are another version of ornaments but nonetheless extremely gorgeous! 
What a cute and tiny ornament that is great for the Christmas season. 
Would you like to make your Christmas more vintage? Or are you of the more modern type? Well good news, because this ornament targets both!
You can get the SVG in this link for these awesome looking ornaments that just need basic cardstock and glue! 
With your Cricut Maker, you can cut out this beautiful ornament and feel like it is a cool winter day every day! 
These fun ornaments are great for keeping for your own kids or even gifting! 
Another great ornament for Christmas! 
Do you watch this show as well? If you do, here is an ornament for you! 
With the SVG file included in this link, you can create this quick and pretty cardstock ornament. 
I'm loving these five-minute modern ornaments! 
This ornament is gorgeous! I would love to make this one. 
These ornaments are great memory keepers. 
Another glass glitter ornament! Are you on the glitter trend? 
Why not try a rustic ornament for a change? These are perfect for the occasion. 
These are gift tags but I think they're too cute to pass up as ornaments as well. Great for hanging on your tree or around your home! 
I really love these ornaments! The ones where you can use for a dual purpose: as an ornament and a life long memory. 
Need a pretty and quick ornament? These ornaments are printable! 
We got an Elf cam, here is a Santa one! 
These are huge ornaments that can even be used together to form a wreath! 
Another great Christmas ornament for your tree. 
Wow, this 3D box looks super cool! You can get the design by in this tutorial as well. 
More Rae-Dun-inspired ornaments, but this time with a bow! 
These are made on M&M style ornaments which makes it easier to apply vinyl! 
Another Harry Potter style ornament but with cardstock for those in a rush to decorate their home for Christmas. 
Here is another glitter ornament tutorial! 
This paper snowflake is awesome for an ornament, but also for a nice craft for the kids. 
This quick HTV ornament can be made with supplies you may already have! With only 4 materials needed, you should be all ready to go.
Are you looking for a non-cutting machine-oriented ornament? Here is a cute one for you! 
This ornament set does take a bit of effort but totally worth it! You can even personalize it with whichever word you want. 
All you need for this project are some fabric scraps and some other sewing essentials! 
Looking for another memory keeper? This tutorial would be wonderful for that! 
I really love the pink used for this ornament. It can even be altered accordingly for whichever color you prefer. And it's an excellent way to give a gift to new parents! 
A perfect way to add to your modern, chic decor! 
This is a pretty cool trick, and so unique as well! 
Another mini sewing project but will fit in perfectly with your rustic and woodland decor. 
Would you like to add some vintage decor to your home? This cute craft is the way to go. 
Such a pretty and interesting ornament that will definitely be a show stopper. 
What a great way to add a bit of brightness to your home and the holidays! 
Another set of Rae Dunn inspired ornaments you may ask? Well yes! These are plaid printed ornaments, an excellent addition to your decor. 
What a multipurpose craft! Great for being used as ornaments, a gift, or even just a fun craft with the kids. 
Another pretty simple ornament that will make a beautiful piece of decor. 
Another pretty simple ornament that will make beautiful decor is this double-sided so it can be used with different embellishments and still match your theme!
This tutorial is a great way of getting your kids involved! 
This really pretty ornament may look intricate and beautiful but is actually quite simple to make! Give it a try! 
A DIY ornament that is not only traditional but also can be a farmhouse style. 
Another rustic and modern farmhouse style ornament! 
Although made out of clay, this ornament looks like the real deal! 
Such a cute ornament, and most importantly, it's edible and yummy! 
If you haven't noticed, I'm digging these rustic and farmhouse ornaments. This ornament is so intricate but looks amazing and fun to make. 
Another quick and inexpensive ornament tutorial with simple materials. 
A great way to add more brightness to your day, especially if you're a water lover. 
Such a fun and cute craft for your kids to participate in. If you're feeling fancy, you can add some vinyl too! 
I think this would be an awesome fall piece of decor as well! 
After using this for your tree, you can also use it in your child's room or nursery.  
I love this and it's so easy to make with just a simple tea towel! 
Isn't this so cute!  A baker's dream! 
And with that, we have reached the end of this post. If you are still here, don't forget to save this to your Pinterest board for future reference. Happy crafting!