In this post, you'll learn how to make business cards on Design Space that can be cut using your Cricut Maker or Explore Air 2. Also, included are steps on making an identical thank you card with your DIY business card.
If you run a Cricut based business, you NEED business cards. They make it SO easy to get the word out about your business. And if you have business cards that you made yourself, you can easily stand out from the crowd. For more reasons to get a business card, check out the bottom of the post.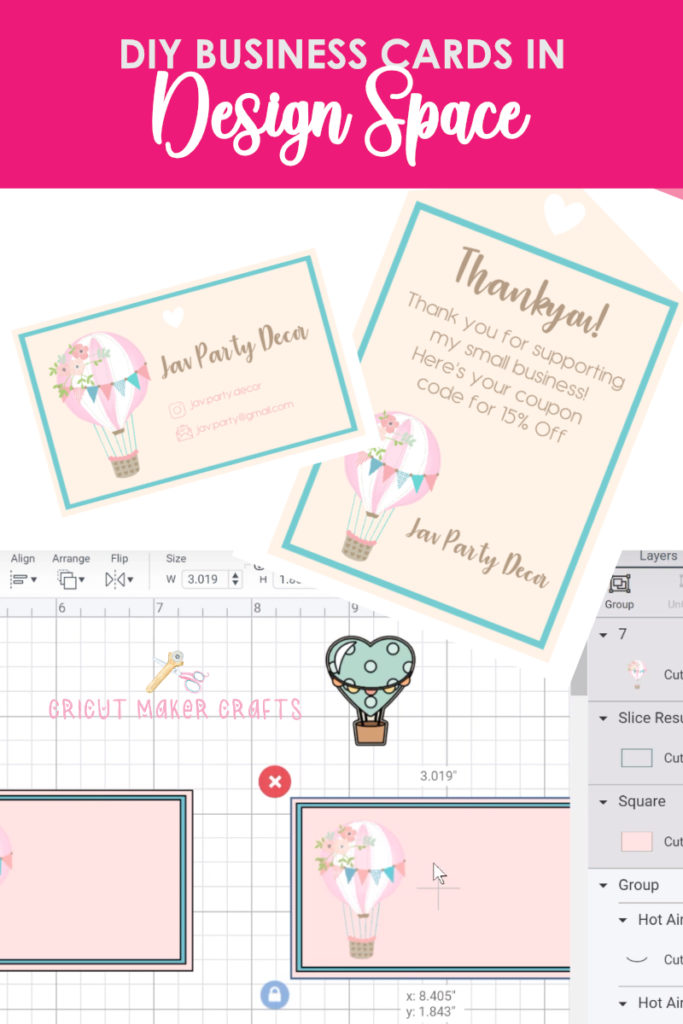 Before we start the tutorial, just wanted to share what's going on behind the scenes at Cut N Make Crafts. Well, I'm currently working on another of my side-hustle for luxury cake toppers which is going super awesome. I started an Instagram account for my new business and within a month I now have 2k followers. I'm pretty excited about the growth as it's working as a motivation boost for me. Usually, I lose interest in ideas pretty quick if I don't see any changes and that's one reason I ditched my sewing pattern business because it wasn't going anywhere after a certain point. Also, I just teamed up with another cake artist for a giveaway and a charity event. YIPPEE! I believe these collabs will be great in getting the word out. To stay updated with my monthly Cricut Business reports, make sure you sign up here.
Importance of Business Cards
Business Cards give an everlasting first impression and make you look like a professional rather than someone selling stuff as a hobby.
Business cards are GREAT for building a connection. They give you the opportunity to get your word around without much trouble as someone might just share your card with their friends and family.
You can take your business cards literally anywhere you go and advertise your business there. This is great when visiting an island or going on tours as you can simply hand in your business cards at a local shop to book a deal with the owner.
They're small but mighty so you can easily carry a bunch of them in your wallet.
Business cards are a great way to show your creativity and make a lasting impact on a person you hand it to.
Why You Need Business Cards
If you're not convinced about creating business cards for your Cricut business, here are some benefits of having business cards for you.
Now that you know the importance of having a business card, let's see how you can easily make one using your Cricut Maker or Cricut Explore 2 on Design Space.
How to Make Business Cards Using Cricut
Watch this video to learn how to make these cute business and thank you cards in Design Space.
IMPORTANT LINKS:
Print & Cut Tutorial + FAQs
Design Seeds for Color Palettes
Canva for generating color palettes
Hungryjpeg for fonts: (affiliate link)
Etsy Graphic Link
Tips for Creating Awesome Business Cards
Before you start designing your new business cards, here are some things you need to keep in mind:
Keep the color contrast in mind. Use a light-colored text on dark background and vice versa. If the contrast between the text and the background is not strong, it can be really difficult to read the text for some people and you don't want to do that.
Leave some room around the edges to make your card look more professional.
Follow a color palette instead of randomly choosing colors.
Make sure your business card colors match with other graphics such as your logo, tags, and thank you cards.
Don't change your business cards too often.
Make sure you include your social media handles along with an email address and phone number.
Although you can go crazy with the size and shape of your business cards, make sure they are big enough to easily fit in your wallet.
Use simple easy to read fonts for your business contact information so people can easily read and understand it.
Step-by-step Tutorial for Making Business Cards on Design Space
Designing business cards involves several different steps. Here's a short summary of the steps involved.
Pick a color palette. This should be the same palette as your logo and other graphics.
Save the color palette along with the color codes on a Word document on your computer so that you can refer to this document in the future whenever you're designing your business graphics.
Look for images to add to your business cards. You can purchase them on Etsy or grab a free one from pixabay.com. However, free images might not be of good quality. You can also use images from the Design Space library.
Alright, now I'm off to cooking dinner for a bunch of guests coming over our place all the way from Sydney. If only, Cricut could do this for me. 🙁