In this post, I'm sharing how I made $7k in the eighth month of blogging with my new blog Cut N Make Crafts.
You CAN make money blogging and you can do it with very few page views. I did it with just 10k pageviews per month and I'm sharing the details on how I was able to achieve this in this post.
When we talk about generating an income from blogging, we directly think about a high number of page views. The only thing wrong with this model is that it's not sustainable, because if your page views drop, your income also drops. Hence, we need a different type of model, something that wouldn't rely on pageviews. I learned this the hard way and you can read all about it below.
BACK STORY
It's important to note that before I started this new blog (Cut N Make Crafts), I was blogging on my sewing blog for the past 6 years. My sewing blog supported me throughout my college, as I was earning $2k/month from it through ads, sewing patterns, and affiliates. But then came a point where things just weren't working out and I had to quit the old blog and start something new that would be profitable.
I started my blogging journey in 2013, with the sole reason of earning an income, to support myself throughout the college. However, it wasn't easy at all. For the first two years, I barely made $500/month. I didn't know what I was doing, I made a LOT of terrible mistakes like collecting people's emails and sending them links to my post. [OMG! It makes me cringe every time I think about it.]
I didn't know what to post, I switched from one niche to another trying anything and everything without any direction and nothing was working out. I KNEW it was possible to make money blogging because I saw other bloggers doing it, I just had to find out how so I kept on digging to find resources to help me out.
And then somehow I stumbled upon one of the DIY blogger's posts on how she started making $4k/month after she took this blogging course aka Elite Blog Academy. It seemed like prayers got answered. I was in awe, I KNEW I had to take the course, even though I couldn't afford it. But at the same time, I was scared because it was a HUGE investment and I wasn't sure if it was going to work. Thankfully, they had a refund policy so I took the leap.
So I enrolled in the course via their payment plan option in March, started implementing some parts of the course and within two months I saw a HUGE change in both my blog traffic and income. I was extremely DELIGHTED with the growth, my dreams were FINALLY coming true.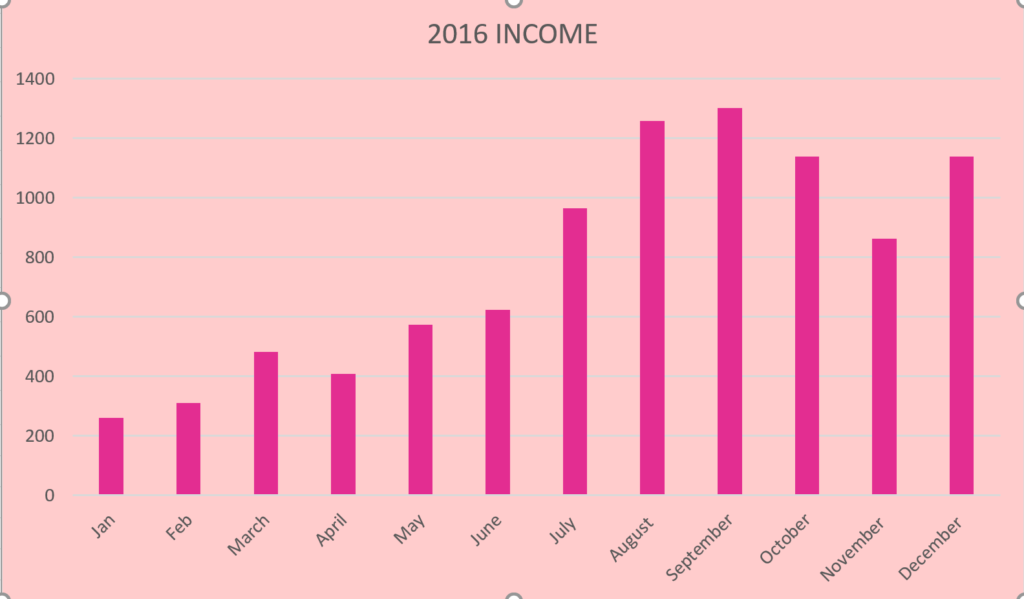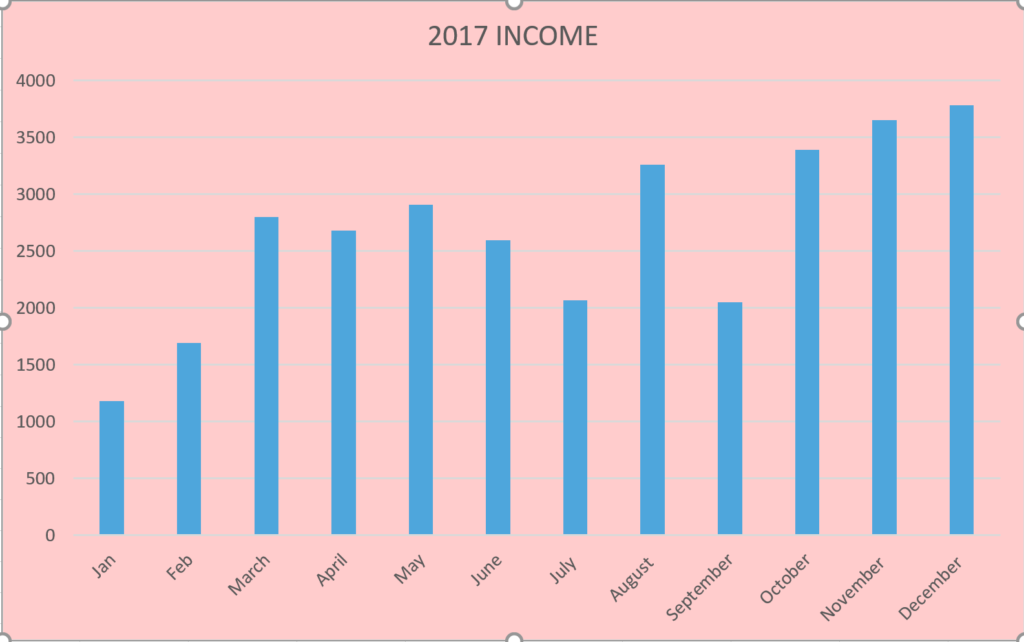 THE FALL OF MY SEWING BLOG
But that didn't last long.
All of a sudden, my traffic dropped and so did my income. I didn't have a lot of products to sell, people were barely interested in my sewing patterns which was affecting my income too. I had run of ideas on ways to boost my income, to reach my goal of making $20k/month like all the professional bloggers.
I tried launching SEVERAL different products to my email list of 20k subscribers; digital art, sewing patterns, ebooks; but it seemed like they just weren't interested in paid stuff. It was getting extremely frustrating because my blog was my SOLE source of income.
After a huge failed sewing pattern launch, (in which I had put in HOURS and HOURS of hard work) I had had enough.
That's when I decided to switch gears to a topic that would be more sustainable and had room for growth. I saw a growing trend in Cricut crafts and to test the idea I started an Instagram account JUST for Cricut crafts (an idea I got while playing around with Instagram when I was working on my e-commerce business). And within a few months, the account just EXPLODED.
I started the account on 13th January 2019 and by April (roughly 3 months later) I had amassed 10k followers as you can see from the stats below. I was shocked! I knew this was the niche for me so, in April, I launched my new blog Cut N Make Crafts.

I'll share more details about how I grew my Instagram account in such a short span with REAL organic followers, strictly no paid ads in upcoming posts. To stay tuned, make sure you sign up for my email list below.
HOW I MADE $7K IN THE EIGHT MONTH OF BLOGGING
Now let's look at how I made $7k in November which was the eighth month of my new blog Cut N Make Crafts.
I made $7k thanks to two major resources
My Instagram account
I'll talk more about these two things in the next paragraph. 
Let's have a look at the statistics first. In November, I had:
13.6k pageviews
50k Instagram followers
5400 email subscribers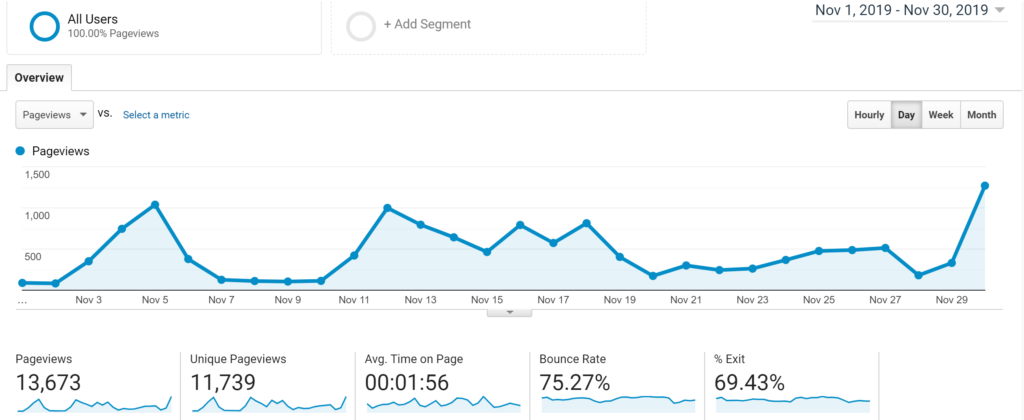 As you can see from the stats above my pageviews were fairly low, yet I was able to make $7k from the brand new blog. Here's how.
You see, my sewing blog's income was SOLELY based on ads generated from pageviews so this time, I wanted to build the new blog's income around products so I wouldn't be chasing pageviews all the time. And if my pageviews fluctuated, it wouldn't impact my business.
So, I followed the steps laid out in the Elite Blog Academy by creating helpful posts for my audience with a FOCUS on building my email list.
My entire focus was on growing my email list so I created multiple enticing freebies and shared them on my Instagram pushing the followers to sign up for my list.
Based on the Elite Blog Academy framework, I then launched a course in November which turned out to be a HUGE success.
Where did I get the idea for the course? And how did I launch it successfully?
I've launched multiple courses over the span of my blogging journey, and let me tell you, most of them were a total fail and barely helped me reach my sales goals so this time I was pretty skeptical about it. Nevertheless, I followed the steps laid out in the Elite Blog Academy, where we are taught about surveying the readers and listening to what they want rather than just whipping things up without market research. And guess what, thanks to the plan laid out in the course, I was able to launch my product successfully and earn a whopping $7,000 in the eighth month of my brand new blog Cricut Maker Crafts.
MORE BLOGGING TIPS
In summary, the sole reason for my success was Elite Blog Academy which taught me the steps on starting and growing a successful blog. Without this course, I was running around in circles, literally not knowing what to post, what to do to be able to generate a full-time income from my blog.
Elite Blog Academy gave me clarity and the focus that I needed to grow my blog with organic readers who LOVE my content and the products I create for them.
With the powerful formula and my Instagram strategies, I was successfully able to launch and sell a course to 100+ students which brought in $7,000 in one month in just the 8th month of my blogging journey.
WANT TO START A MONEY MAKING BLOG?
If you would like to start a successful blog to make a full-time income, then sign up for my blogging tips email list below. You will receive tips on blogging and my monthly blog income reports to help you make money from home.