This post contains affiliate links and I will earn a small compensation for any purchases made via those links.
In this post, I'm sharing my January 2020 blog income report. It was a tough decision to put this sensitive information out there in the public but a lot of people were interested in finding out how blogs make money so I decided to share this anyway in order to help those thinking about starting a new blog to earn an income from home. 
Also, with these income reports, my goal is to break some myths about things like pageviews, and the number of followers. I'll talk more about this later.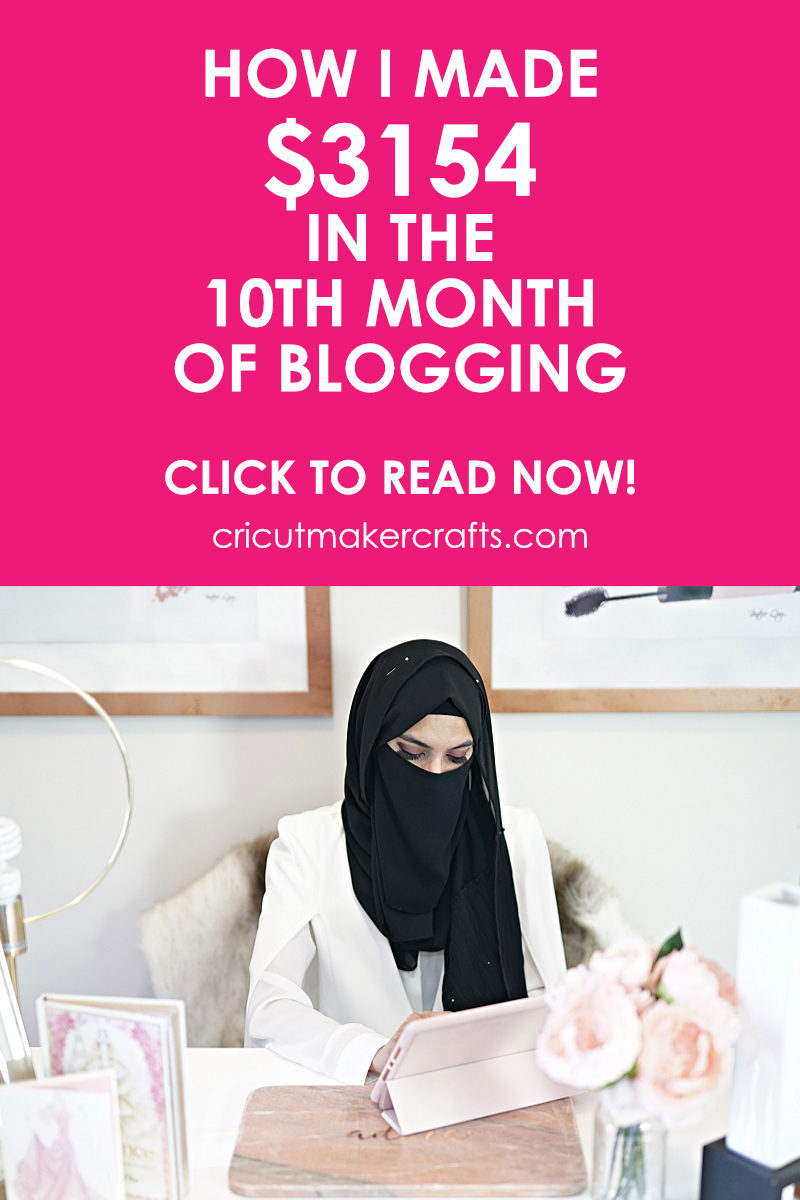 When you read this report, I want you take note of my pageviews and the income. The fact that I was able to make $3154 with JUST 15k pageviews is a proof that you DON'T need to have a HUGE number of views to make money from your blog. 
In this income report, I've combined the revenue from both my new blog (Cut N Make Crafts) and my old blog (Sew Some Stuff). This is because believe it or not, my old blog STILL makes money. Yep, I haven't published a SINGLE post on that blog since December 2018, that's like a WHOLE year yet, I'm making approximately $450 per month from that dormant blog. This is the power of Pinterest and I'll talk more about it in a minute.
January was my 10th month of blogging on my NEW blog Cut N Make Crafts. Prior to this I was blogging at Sew Some Stuff for the past 7 years.
I started blogging in June 2013, in order to earn an income to support myself during college. To be honest, it wasn't easy AT ALL. I made GAZILLION mistakes and didn't know what I was doing until I joined this AH-MAZING course, Elite Blog Academy.
I'll talk more about it in the post. 
First, let's have a look at the January's stats. 
JANUARY STATS
Pageviews: new blog 14,975; old blog: 45,839
Mailing list subcribers: 6608 (I'm not collecting any emails on my old blog because it was pretty useless as no body was interested in buying my products. Last I checked my old list had 25k subscribers)
Instagram followers: 85k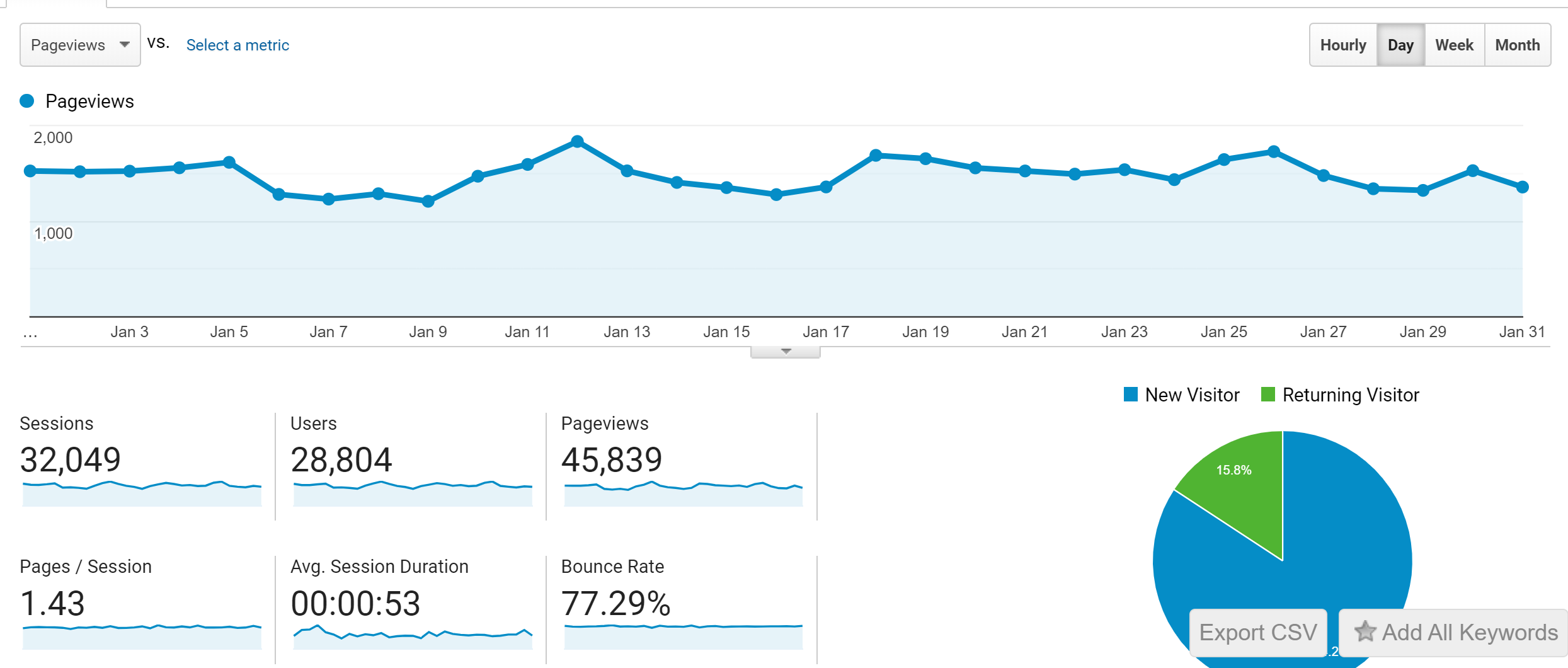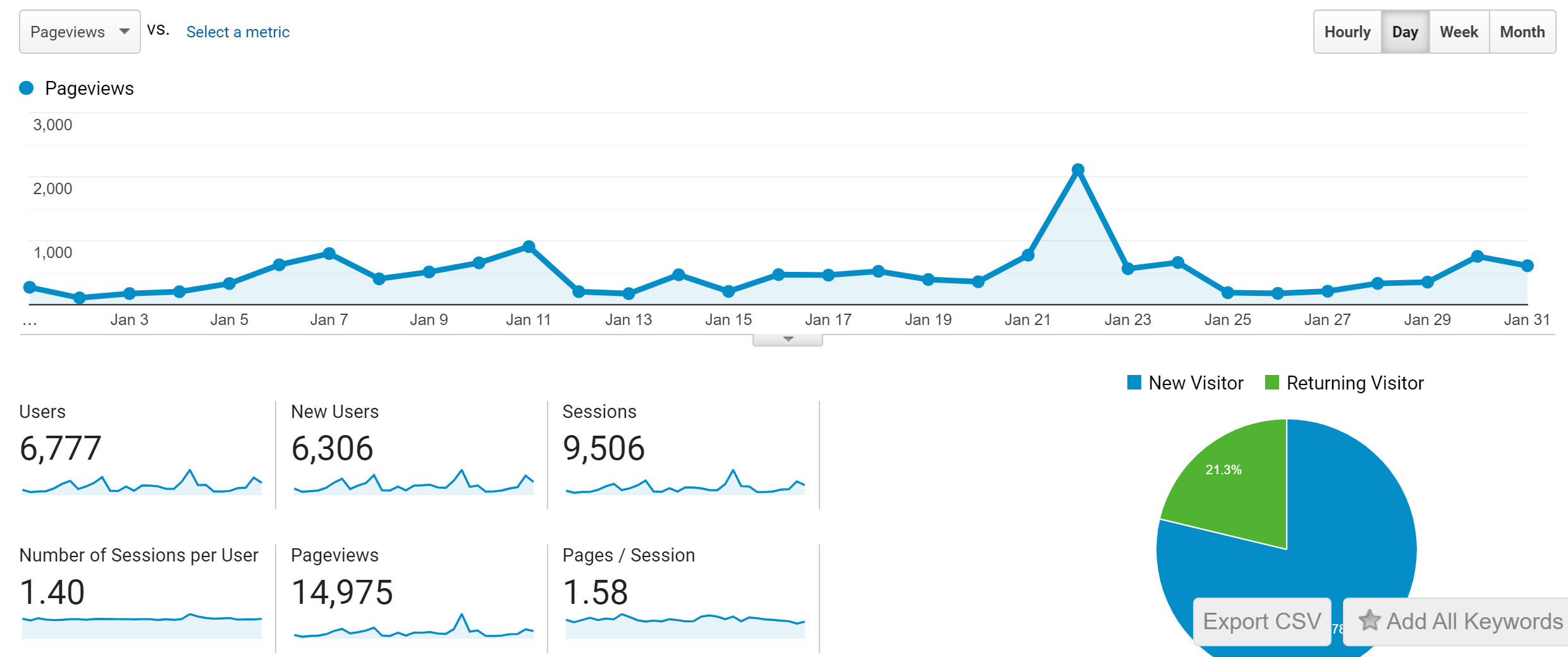 A NOTE ABOUT STATS
As you can see above, I've shared very limited stats. That's because based on my previous blogging experince, I've found all the other stats pretty useless so I've stopped tracking them altogether. 
I had 10k Facebook followers but this did NOT help with my income or pageviews. On Pinterest, I had 100k followers, yet it didn't DIRECTLY effect the number of pageviews. What DID help with Pinterest was the STRATEGY that I used for sharing pins. Those pins that I saved continue to bring in traffic to my OLD blog thanks to which I'm making $400 – $500 per month by doing absolutely nothing. This shows the POWER of having great posts and a good Pinterest strategy. When done right, these can bring in revenue even when you're on a break. NO OTHER job does that!
JANUARY REVENUE
Product sales (new blog only)= $2446
Ads: new blog = $33.34; old blog = $416.13
Affiliate income (old+new blog) = $259
Amazon: $105
Shareasale: $154
(I've combined the affiliate revenue together because I'm using the same platforms for affiliates for both my old and new blog and everything is pretty much intermingled).
Total revenue for January 2020 from both old and new blogs: $3154
HOW DID I MAKE $3154 FROM BLOGGING?
The answer is straightforward and I'm not going to lie. All this is thanks to the one and only Elite Blog Academy. 
I can't describe in words HOW MUCH this course has helped me for the past couple of years in making my dream to earn an income from home come true. 
Prior to enrolling in this course I had NO IDEA about HOW to make a sustainable income from blogging.
Honestly speaking, I'm good with techy stuff BUT I suck at developing strategies. I needed a step-by-step plan to guide me in the right direction. Before I enrolled in Elite Blog Academy, I was relying on tips from other bloggers who SEEMED to be doing good in the online world and guess what, NONE OF THESE TIPS worked for me. 
Once I enrolled in Elite Blog Academy where Ruth Soukup (the founder of EBA) shares HER VERY OWN blogging success masterplan highlighting step by step the things new bloggers NEED to do to earn a sustainble income from their blog, I was able to FULLY understand how this blogging thing works. 
The course taught me the importance of having a STRONG email list and as you can see from my income breakdown above, the sole source of my income was (a) my list of 6k subscribers (b) my Instagram account.
I SOLELY used my Instgram account to grow my list to 6.6k subscribers in just 10 months. 
But where did I learn about growing my list? Elite Blog Academy. Thanks to this course, I grew my old blog's list to 25k and now 6.6k in just a couple of months.
Elite Blog Academy ALSO taught me everything about Pinterest. Thanks to the strategies covered in the course, my OLD blog still makes me around $450 per month with LITERALLY zero efforts.
Elite Blog Academy also helped me change my focus from growing my pageviews to building my OWN products and as you can see from the revenue above, thanks to this mindset, I put all my efforts in creating a product that my audience wanted and it actually paid off. This is a proof that you CAN make a full time income from blogging even if your pageviews are less provided you have a strong social media following. 
GOALS FOR FEBURARY 2020
Start growing my pageviews so that I can unleash the power of high views to boost my income. 
Grow my list to 15k in preparation for the course launch in the mid of this year.
If you'd like to learn MORE about making an income from craft blogging, feel free to sign up for my blogging tips email list below.